Economic Development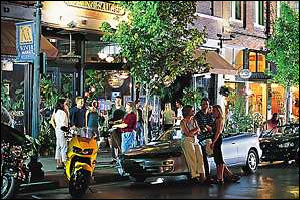 Economic Development is a priority for the City of Little Rock. Numerous City departments work together with other public sector agencies and private developers to expand existing businesses and attract new businesses to provide job opportunities and expand economic growth within the City of Little Rock.
Little Rock has been recognized by Kiplinger's as Number 1 on the "10 Great Places to Live" list; Number 6 on Gallup's "America's Happiest Cities," Number 2 on Moody's Investors Services "Most Diverse Economy in the Nation," Number 46 in Forbes's Top 200 "Best Places for Business and Careers," and Number 7 on "Best Value City" by Kiplinger's.
With a population of 197,706 (2014 Census estimate) Little Rock is a center for several major employers in a variety of industries including healthcare, aerospace, banking and finance, technology, advanced manufacturing, government, education, and agriculture. Competitive wages and Arkansas' right-to-work environment provide an excellent workforce environment for businesses.
Forty percent (40%) of the nation's population and buying power is within a 550-mile radius. Little Rock is where 'America Comes Together' – located at the crossroad of Interstate 30 and the most heavily traveled Interstate in the nation, Interstate 40.
The Bill and Hillary Clinton Little Rock National Airport is less than three (3) miles from downtown, with nearly 2.2 million passengers annually. Also known as Adams Field, Little Rock's airport has dozens of daily departures and nonstop service to multiple cities making Little Rock truly one stop away from the world.
The Arkansas River traverses downtown Little Rock and is part of the McClellan-Kerr Navigation System, one of the largest projects of the United States Army Corps of Engineers. The system provides a 448-mile navigation channel for barge traffic from the Mississippi River northwest to fifteen (15) miles east of Tulsa, Oklahoma. The Port of Little Rock on the Arkansas River is a designated Foreign Trade Zone and a United States Customs Point of Entry. This status allows goods to be stored and processed there without custom duties or bonds being paid until products are finished and sold, or moved out of zone.
Medical facilities in the Little Rock area provide efficient, comprehensive service to more than two million individuals throughout the state. The major area hospitals provide bed space for over 2,800 patients. Included are a large number of specialty clinics and outpatient surgery centers that are continuing to expand.
Diverse and quality educational opportunities are available in Little Rock. The University of Arkansas for Medical Sciences continues to garner international attention for ground breaking medical research and procedures. The University of Arkansas at Little Rock is a metropolitan university educating 12,000 students in undergraduate and graduate programs, including the William H. Bowen School of Law. In addition, Little Rock is the home of the University of Arkansas Clinton School of Public Service as well as Philander Smith College and Arkansas Baptist College, two historically black colleges that are leading exciting revitalization initiatives in their surrounding areas.
The City of Little Rock is committed to retaining, creating and expanding job opportunities for the service, retail and industrial sectors of the community. Since 1994 there has been more than $2.5 billion in economic development to the central Arkansas area. This growth is due in large part to an active private sector and the leadership of the Little Rock Regional Chamber.
Among the incentive programs available for economic development are Advantage Arkansas Income Tax Credit, ArkPlus, Create Rebate, Free Port Law of Arkansas, InvestArk Sales and Use Tax Credit, Targeted Business and Tax Back Sales & Use Tax Refund. Arkansas does not have personal or corporate income tax at the city or county levels. Real and personal property tax do not exist at the state level.
Additional Economic Development Resources:
Little Rock
Arkansas