The Allison Collection of WWII Photographs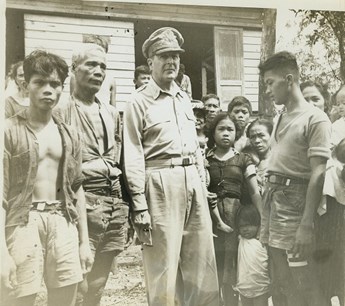 During World War II, James Allison, a sports writer working for the Houston Press, noticed that many photographs not printed in the daily newspaper were routinely discarded. He received permission to save these images, and by war's end he had amassed a collection of more than 4,600 photographs. In August 1977 Allison donated his collection to the Arkansas Museum of Science and History, located in the historic Arsenal building in MacArthur Park. Today the MacArthur Museum of Arkansas Military History owns and preserves these images. 
Please note that while the photographs are ordered chronologically by year and month, they are not arranged chronologically by day.  Additionally, some months have been combined with one another due to the small number of photographs in a given period.
If looking for specific content, one can use the Ctrl + F (Windows) or ? + F (Mac) commands to search for keywords within a page's captions.
*WARNING* The photographs in this virtual exhibit are actual images from WWII and may depict death, violence, and some nudity. Please use your discretion when looking through the exhibit, as some of these photos may not be appropriate for young or sensitive eyes. The Museum does not endorse all language found in the original captions. They are left unchanged for historical accuracy.