The MacArthur Park 5K is an annual race in downtown Little Rock coordinated by the MacArthur Park Group, Little Rock Parks & Recreation and Downtown Little Rock Partnership. (
macarthurparklr.org
) The 3.1 mile race (5K) begins from the North Lawn (9th Street) of MacArthur Park in front of the MacArthur Museum of Arkansas Military History. The MacArthur Park 5K is held each year in May. This year proceeds will go towards the installation and maintenance of the MacArthur Park UnLimited Playground!
Volunteers are needed for the race and will receive spectator access and a t-shirt. Volunteer sign up will open on April 1st.
Packet pick up and same day registration is from 5 p.m.- 6:45p.m. on Friday, May 6 on the parade grounds directly behind the MacArthur Museum of Arkansas Military History. You will receive your t-shirt, bib and chip. The race will begin promptly at 7 p.m. This race is timed using chip timing. Each chip must be returned to the race organizers once you cross the finish line.
Once you've crossed the finish line, please stay for the awards ceremony, live music by Jimmy Lynn's Psychedelic Velocity with plenty of food and drinks including Stone's Throw Brewing beer!
Spectators are welcome to hang around the park to watch and take in some live music and refreshments. Spectator entry is $15 for adults and $10 for children 12 and under.
All proceeds support MacArthur Park.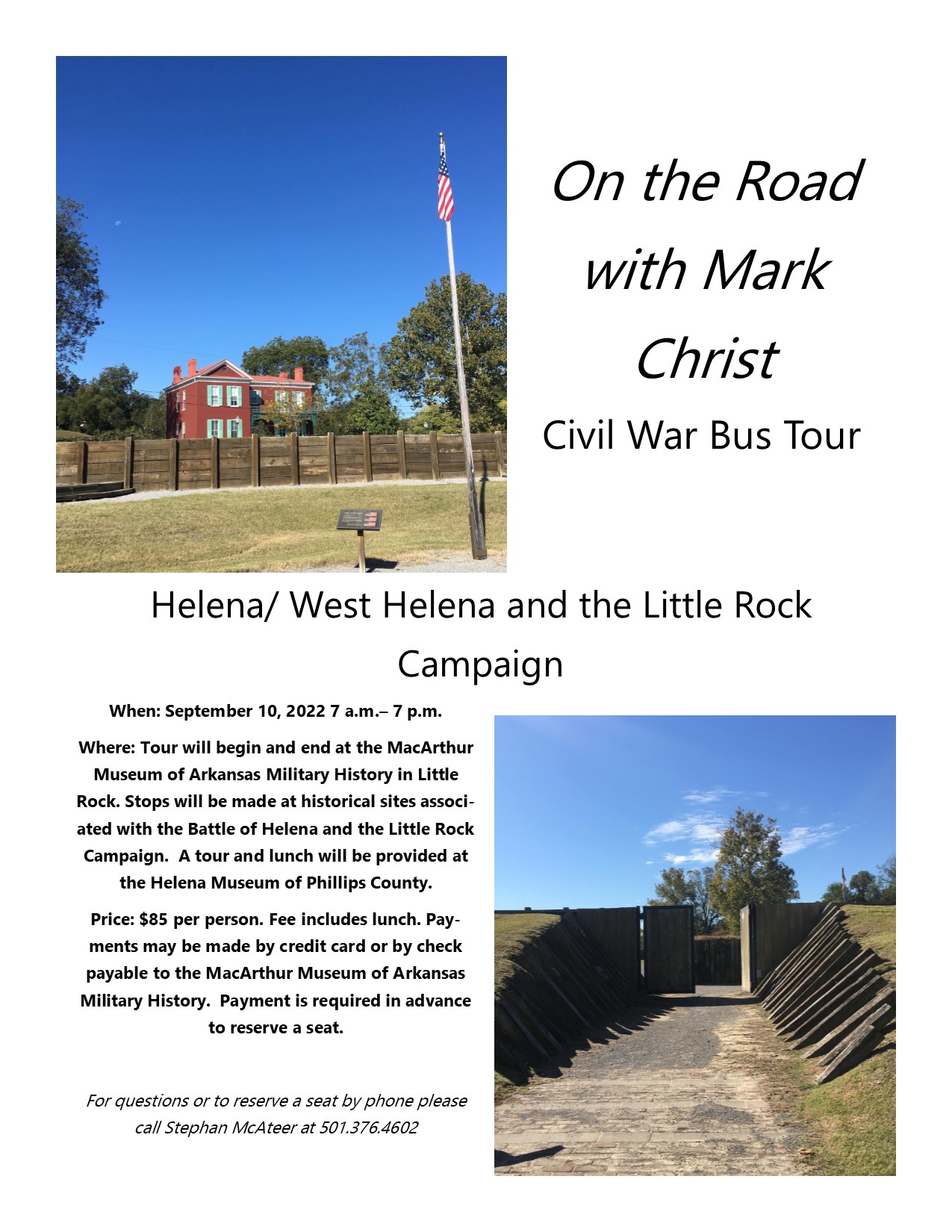 The museum is excited to announce plans for our "On the Road with Mark Christ" Civil War bus tours.  Our next tour is scheduled for September 10, 2022 and will visit Civil War Helena.  It will incorporate elements of the Little Rock Campaign on the return trip. 
The cost for the Helena is $85 per person.  This fee includes lunch at the Helena Museum of Phillips County.  Payment is required in advance to book a seat and can be made by credit card or check payable to the MacArthur Museum of Arkansas Military History. To reserve a seat please contact the museum at 501.376.4602 or by email at macarthur@littlerock.gov. 
The schedule for the Helena/ West Helena and Little Rock Campaign tour is as follows:
> 7:00 a.m.       Depart Little Rock for Helena
> 9:00               Arrive at Arkansas Welcome Center for rest break
> 9:20               Arrive at Freedom Park
> 10:00             Arrive at New Fort Curtis/Moore-Hornor House/Battery D visits
> 11:30             Arrive at Helena Museum of Phillips County for Tour and Lunch
> 1:00               Arrive at Battery C Historical Park
> 2:00               Arrive at Maple Hill Cemetery/Confederate Cemetery
> 3:00               Arrive at Delta Cultural Center Depot Museum
> 3:45               Depart Helena for DeVall's Bluff and Little Rock
> 6:00               Arrive at Reed's Bridge Battlefield Heritage Park
> 6:30               Arrive at Fourche Bayou
> 7:00 p.m.       Arrive at MacArthur Museum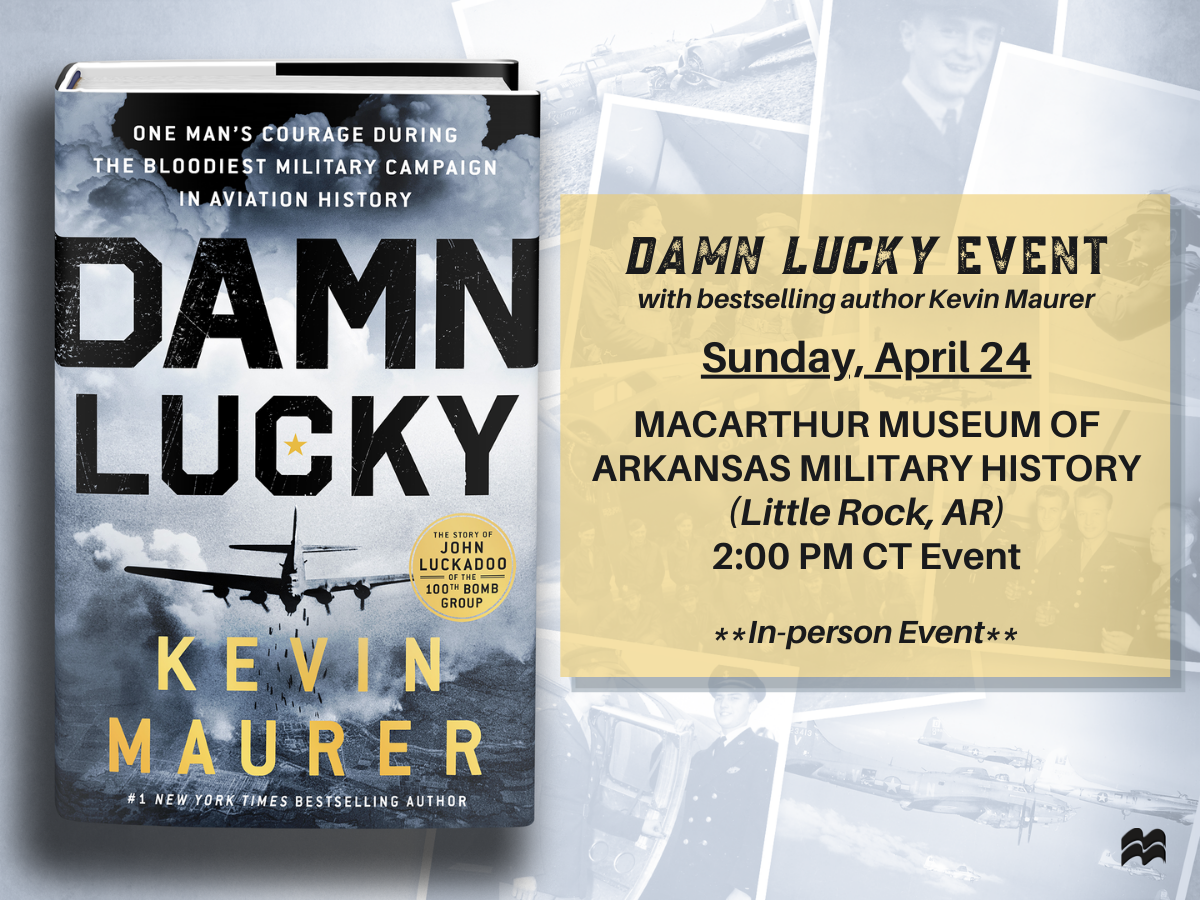 DAMN LUCKY: One Man's Courage During the Bloodiest Military Campaign in Aviation History
written by Kevin Maurer
Kevin Maurer's
DAMN LUCKY: One Man's Courage During the Bloodiest Military Campaign in Aviation History
(On sale: April 19, 2022) tells the true story of "Lucky" Luckadoo who flew some of the deadliest missions of World War II during the bloodiest military campaign in aviation history. Lucky served with the 100th Bomb Group during the early days of the bombing of France and Germany from England. His story starts with his quest to join the Royal Air Force with his best friend before the war, through 25 missions in combat over Germany to the one mission – a raid over Bremen – where Luckadoo felt like his luck had run out.
In DAMN LUCKY, drawn from Lucky's firsthand accounts, acclaimed war correspondent and bestselling author Kevin Maurer delves into this extraordinary tale, uncovering astonishing accounts of bravery during an epic clash in the skies over Nazi Germany.
Kevin Maurer is an award-winning journalist and three-time New York Times bestselling co-author of "No Easy Day," "No Hero" and "American Radical" among others. For the last eleven years, Maurer has also worked as a freelance writer covering war, politics and general interest stories. His writing has been published in Men's Journal, The Daily Beast, The Washington Post, and numerous other publications.
Join us for a talk with Kevin Maurer and a zoom appearance by John "Lucky" Luckadoo, followed by a book signing on April 24th. Admission is free.