Adult Tennis
Leagues at Rebsamen Tennis Center
Our Leagues are a great way to meet new players, improve your game and play tennis on a regular basis. Call us today to sign up (501) 664-0736
 
Level of Play
Start Time
Price
Weeks
Mon
Men's 3.5 singles
Men's 4.0 singles
Men's 4.5 singles
6:00 PM
6:00 PM
$56.00
$56.00
8
8
Tue
Mens's 3.0 singles
Men's 3.5 singles
6:00 PM
6:00 PM
$56.00
$56.00
8
8
Tue
Women's 3.0 singles
Women's 3.5 singles
6:00 PM
6:00 PM
$56.00
$56.00
8
8
Thurs
Men and Women's 2.5 beginners singles
Women's 3.0 - 3.5 Doubles League
6:00 PM
6:00 PM
$56.00
$40.00
8
8
*Price per player. Fees are to be paid first week of play. Players may join a league at any time during the eight (8)-week session and the price will be pro-rated. Please notify us up front if you know you are going to miss a week or two, and we will pro-rate the cost.
All league play is scheduled for 1½ hours. Players may continue unfinished matches if there are no court reservations following.
If inclement weather forces the cancellation of league play, the league session will be extended for a week. Season Pass Holders pay only $36.00 for eight (8) weeks of Singles and $20.00 for eight (8) weeks of Doubles League Play. Season Passes are good for one (1)-year from date of Purchase. Pass holders are allowed unlimited free court time (if courts are available) Passes are not good for Team Tennis or Intercity. Cost for individuals is $150.00. For married couple $200.00. Children sixteen (16) years and younger play for free.
Private and Semi-Private Lessons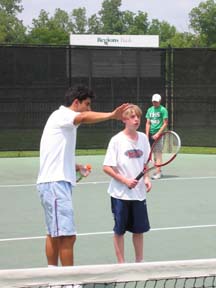 There are also private and semi-private lessons available by appointment. For more information or to make an appointment for a lesson call:
Raul Bermudez
Cell: (501) 766-1119
bermudeztennisacademy@yahoo.com
Janan Batchelor
Cell:  (501) 680-1514
jsbatch@att.net
Adult Group Lessons are $12.50 per hour. Also, group rates are available for Team Tennis and Inner City. Call for advanced notice.
Rebsamen Tennis Center launches Corporate Tennis Programs
Rebsamen Tennis Center offers a tennis program for corporations. Corporate tennis offers employees and their spouses a chance to meet new people in a healthy and fun atmosphere. Corporate tennis is available to any company in Little Rock who will forward the information on to their employees.
Why should a company promote corporate tennis to its employees?
The program benefits employees and the organization in which they work. It's a win-win situation. Every business and organization wants to have happy, energetic, healthy employees. That is why many companies have incorporated wellness programs that include active sports into their employees benefit package. Tennis serves a variety of fitness and social benefits. Just a few of these are good conditioning for the body; anaerobic fitness; cross training, socializing, networking, ability to manage adversity and discipline. We will run the entire program; all you have to do is communicate its availability to your employees through your newsletter, e-mail and other personnel or wellness center communication.
For More Information:
If you would like information, please contact us and ask about Corporate Tennis.
(501) 664-0736
info@rebsamentennis.com