Volunteer Opportunity in Beautifying Little Rock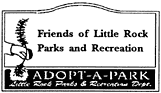 Little Rock Parks and Recreation is soliciting interested participants and highlighting its Adopt-A-Park Program, a volunteer-based community involvement program. The success and livelihood of this non-budgeted City program depends on active volunteer participation from neighborhood associations, community groups, and individuals. The Adopt-A-Park Program offers interested participants many opportunities to contribute back into the community and share their special talents by working together in community and supporting staff in organized horticultural activities. Opportunities include planting and maintaining strategically located flower beds and gardens, supporting horticultural greenhouse operations and participating in other organized park maintenance tasks throughout the park system. Little Rock Parks and Recreation oversees and maintains in excess of 5,000 developed and undeveloped acres of parkland in fifty-nine (59) parks with limited resources. Available adoptable areas are in numerous park locations in and around Little Rock.
If you are not already involved with Adopt-A-Park, Little Rock Parks and Recreation cordially extends you or your group this invitation to contact us for more information and to take part in beautifying Little Rock.
Contact Lauren Clark to discuss site availability for adoption (501) 371-6856.
For More Information
Lauren Clark
500 West Markham Street, Room 108
Little Rock, AR 72201
(501) 371-6856
lclark@littlerock.gov