Message from The Chief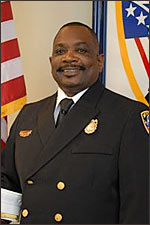 On behalf of the entire membership of the Little Rock Fire Department, I would like to thank you for taking time to visit our website. The Little Rock Fire Department proudly serves the citizens and visitors of the great City of Little Rock, Arkansas. I can truly say that as one of the finest Departments in the nation, we will always strive to stand true to our vision statement "Serving with pride, excellence and national recognition", and we are extremely proud of our tradition-rich department.
As the 12th Fire Chief of the City of Little Rock, it is an honor, a pleasure and privilege to work with the most dedicated professional men and women in the fire service. I hope you will be as proud as I am, to have them serve this outstanding community. In addition to our fire and emergency services delivery disciplines, the Little Rock Fire Department offers a variety of other services to the community, from our fire safety education programs, our Ride-a-Long Program to our Save-a-Life Smoke Alarm Program, we're here to serve so don't hesitate to call upon the fine men and women of this dynamic organization.
Thank you and have a fire safe day!
Gregory L. Summers
Little Rock Fire Chief