Special Investigations Division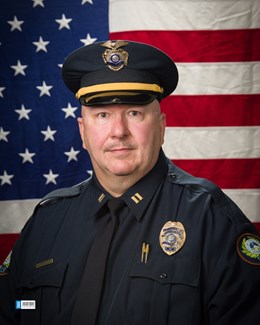 Captain Ken Temple
The Special Investigations Division is under the command of Captain Ken Temple, who reports to the Assistant Chief of Police - Investigative Bureau.
Captain Ken Temple is a thirty-four (34) year veteran of the Little Rock Police Department.  His law enforcement career began in 1983 as a Police Officer.  As a patrolman, he served in the Patrol Division and the Training Division. As a Training Officer,he served as a D.A.R.E. Officer (Past President of the Arkansas D.A.R.E Officers Association) and as a training and crime prevention officer.  He was promoted to Sergeant in 1999 and served in the Southwest Patrol Division and the Training Division (Crime Prevention and Recruit Training Sergeant).  He was promoted to Lieutenant in 2002, while deployed for Operation Enduring Freedom.  Upon return from his activation, he served assignments as a Shift Commander in the Downtown Patrol Division (1500-2300) and the Special Operations Division.  He was promoted to Captain in 2006 and has served as the Northwest Patrol Division Commander, Training Division Commander, Special Projects Division Commander and the Records and Support Division Commander.  
Captain Temple has a Bachelor of Arts Degree (History) from the University of Arkansas at Little Rock.  He has attended the Arkansas School of Law Enforcement Supervision as well as various other local, state and federal law enforcement training schools. Captain Temple currently possesses a Senior Certificate, is certified as a Law Enforcement Instructor and firearms instructor. He is a career long member of the Fraternal Order of Police and is a retired Lt. Colonel with the Arkansas Air National Guard.
Narcotics Unit
The Narcotics Unit is responsible for investigating all criminal offenses relating to or arising from the use of or trafficking of controlled substances. A vital role of the Narcotics Unit is to maintain a close working relationship with federal, state and local drug enforcement agencies.
Report Suspicious Activity
Crime Stoppers (501) 371-4636
Vice Unit
The Vice Unit is responsible for the investigation of criminal offenses relating to or arising from acts of prostitution, gambling, pornography and liquor violations.
            International Crimes Against Children                            1-800-843-5678
            National Center for Missing and Exploited Children          1-800-843-5678
            Child Abuse Hotline                                                      1-800-482-5964
Intelligence Unit
The Intelligence Unit has the responsibility to investigate, expose, and cause the arrest of individuals engaged in illegal activities, organized or otherwise, as determined by law. The Intelligence Unit is responsible for investigating all events or situations that have a potential for violence, disorder or criminal behavior. The Intelligence Unit shall be responsible for liaison activity with federal, state, and local law enforcement agencies involving joint investigations and the protection of visiting Dignitaries.
Gun Crimes Intelligence Unit
The GCIU mission is to identify and target individuals who carry and use illegal guns in an effort to reduce or prevent gun crimes and the associated violence through the development and production of time sensitive actionable intelligence.  They are tasked with assisting state and federal partners in their successful prosecution efforts of individuals involved in or associated with gun crimes or who are committing acts of violence.