Chief Kenton Buckner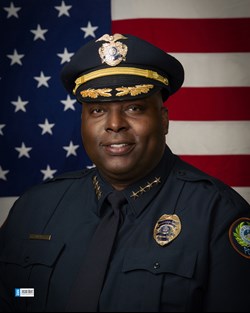 Kenton Buckner became the 35th Chief of Police for the Little Rock Police Department on June 30, 2014.  Prior to that, he spent twenty-one years with the Louisville Metro Police Department.
He began his career in Louisville as an officer in 1993 and rose through the ranks to Sergeant in 2004, Lieutenant in 2008, and Major in 2009.  From 2011 to 2014, in the position of Assistant Chief, he oversaw the Support Bureau, which consists of Major Crimes, Narcotics/Intelligence, and Special Operations.
Chief Buckner earned both Bachelor of Science and Master of Science degrees from Eastern Kentucky University.  He is a graduate of the National Executive Institute (NEI), sponsored by the FBI; the Administrative Officers Course, sponsored by the Southern Police Institute (SPI); Chief Executive Officer Mentoring Program at Cedarville College, sponsored by the National Organization of Black Law Enforcement Executives (NOBLE); and the Senior Executives in State and Local Government, sponsored by the Harvard Kennedy School.
He is a member of the International Association of Chiefs of Police, the Arkansas Police Chiefs Association, NOBLE, and the Police Executive Research Forum (PERF).  He has also been involved with Big Brothers and Big Sisters.
The Little Rock Police Department is the largest agency in the state of Arkansas, which includes 593 sworn and 140 non-sworn employees.
In the spring of 2016, the agency was awarded the highly coveted CALEA Gold Standard Assessment.  In 2017, Chief Buckner was appointed to serve as a CALEA Commissioner.  As a proponent of Community Policing, the agency continues to work with the community to address public safety issues in the City of Little Rock.


Questions for the Chief?
LRPDChief@littlerock.gov