Chief Kenton Buckner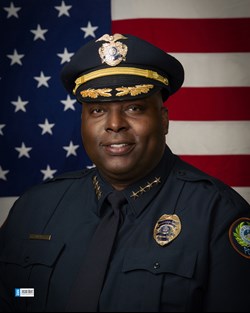 Kenton Buckner became the 35th Chief of the Little Rock Police Department on June 30, 2014.  Prior to that, he spent twenty-one years with the Louisville Metro Police Department. 
He started as an Officer in 1993 and rose through the ranks to Sergeant (2004), Lieutenant (2008), and Major (2009). From 2011 to 2014, he held the rank of Assistant Chief. He oversaw the Support Bureau which contains Major Crimes, Narcotics/Intelligence and Special Operations.
Chief Buckner has a Bachelor of Science and a Master of Science degree from Eastern Kentucky University. He has also participated in law enforcement training programs sponsored by the Federal Bureau of Investigations, the Southern Police Institute and the NOBLE Chief Executive Officer Mentoring Program at Cedarville College.
He has been involved with the International Association of Chiefs of Police, Kentucky Police Chiefs Association, National Organization of Black Law Enforcement Executives, and Police Executive Research Forum. He has also been involved with Big Brothers and Big Sisters.
Among Chief Buckner's professional accomplishments are participation in a National Counter-Terrorism Seminar in Israel, Spanish Immersion Program in Mexico, and U. S. Secret Service Dignitary Protection Seminar.  He has also been an Adjunct Criminal Justice Instructor and participated in management audit of Cincinnati Police Department.

Questions for the Chief?
LRPDChief@littlerock.gov