Police Youth Camp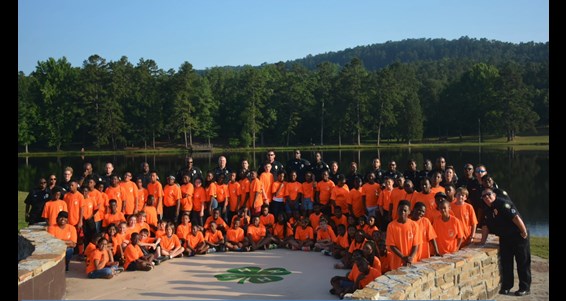 The Police Youth Camp enables pre-teen boys and girls ages 10-12 from Little Rock community to have direct and positive exposure to police officers through a five-day, four-night camp experience. The camp helps open lines of communication and improves relations between the officers and young people.  Ultimately, Police Youth Camp rewards kids for good behavior.
Mission Statement
To build positive relationships between youth and police through educational, recreational and positive interaction with police officers in order to promote a stronger community.
Everyone participates in a variety of activities including: 
Swimming, canoeing, fishing, and archery,
Sports activities such as volleyball, basketball, soccer, football, and dodge ball
Group games, campfires
Nature explorations, arts and crafts, and group projects
Small group discussions on self-esteem, bullying, team building, diversity, conflict resolution, alternatives to violence
Field trips to educational sites
Demonstrations by special police units such as Canine, SWAT, Crime Scene Search, and Mounted patrols
Discussions and role plays about police work and law enforcement
2018 Police Camp Application
Application and Recommendation Forms PDF (click here)
Parent Information Sheet PDF (click here)
Deadline for these forms to be received by the Little Rock Police Department is March 16, 2018
Return to:  3917 West 12th Street (12th Street Substation)
Due to limitations caused by the COVID pandemic, this prevented proper time needed to plan for the 2022 Police Youth Camp. We look forward to hosting the next Police Youth Camp in 2023.