Assistant Chief Heath Helton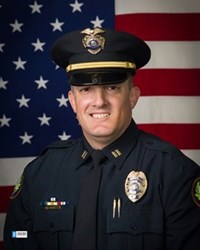 Assistant Chief Heath Helton is a 26 year veteran of the Little Rock Police Department.  He began his career in 1996 as a Police Officer. He was promoted to the rank of Sergeant in 2003, Lieutenant in 2011, and again to the rank of Captain/Major in 2015. Helton was finally promoted to the rank of Assistant Chief on March 5, 2022.
Assistant Chief Helton is a graduate of the 268th Session of the FBI National Academy. He holds a Bachelor's degree in Leadership and Master's Degree in Criminal Justice-Public Administration. He's received numerous civilian and supervisor commendations, three Life-saving awards, three Police Commendation awards, the Civic Achievement award, and the Chief Lawrence Johnson Leadership Award. Assistant Chief Helton is the past director for the Arkansas Law Enforcement Torch Run benefiting Special Olympics, served on the Board of Directors for Special Olympics Arkansas, and now serves on the International Law Enforcement Torch Run Executive Council as Region IV Coordinator for the states of Arkansas, Kansas, Louisiana, Missouri, Oklahoma, and Texas. He also volunteers annually with the Martin Luther King Commission. Assistant Chief Helton is married with four kids and is a resident of Little Rock.