Erma Hendrix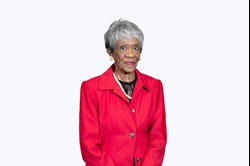 Ward 1

Erma Hendrix, a native of the City of Little Rock, serves as City Director for Ward 1. She is graduate of the Little Rock Public Schools and has a Bachelor of Science degree from Arkansas Baptist College. She has a Masters Degree in Urban Planning and Development from St. Louis University and has completed additional graduate studies from Ouachita Baptist University.

Director Hendrix has worked as a psychiatric nurse at Fort Roots Veterans Hospital. She has also been administrator of the Anti-Poverty Program and the Little Rock Housing Authority.

Voters in Little Rock first sent Director Hendrix to the Little Rock City Board of Directors from November 1993 to December 1994. She has served in her current position since January 2007, having been reelected in 2010, 2014, and 2018. From 1999 to 2006, she served as a commissioner on the Arkansas Parole Board. She also served as Community Development Block Grant (CDBG) Chair for the City of Little Rock from 2002 to 2006.

A member of St. John Missionary Baptist Church, Director Hendrix has been active in a variety of community organizations in Little Rock. She is a member of the National Council of Negro Women. Director Hendrix was a charter member of Downtown Neighborhood Association, Martin Luther King Neighborhood Association and Martin Luther King Heritage Center. She has also served as Neighborhood Chair of the Model Cities Program.

Director Hendrix has a long history of involvement in Little Rock activities. She is a former Den Mother in the Boy Scouts of America Cub Scouts Program and a former PTA Officer in the Little Rock School District. From 1972 to 1975, she was President of the Arkansas Conference of Branches of the NAACP, and was the Arkansas Youth Director of the NAACP from 1960 to 1970. Director Hendrix is the mother of six adult children.
Current Term: 
January 1, 2019 to December 31, 2022      
Current City Appointments:



Member of the Community Housing Advisory Board
Liaison to Land Bank Commission
Contact Information:
 
Home:



921 West Roosevelt Road
Little Rock, AR 72206
(501) 375-2216
Office:




Little Rock City Hall




500 West Markham - Room 203




Little Rock, AR 72201




(501) 371-4510

        
Email: 
ehendrix2644@att.net