Antwan Phillips
Position 9 At-Large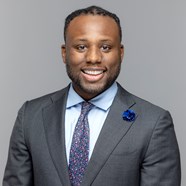 Antwan Phillips serves as the Position 9 At-Large City Director. Phillips was elected to his first term in November 2020, serving as the City of Little Rock's newest Director. Phillips was born and built in Little Rock. He is a graduate of John L. McClellan High School.  After earning a degree in American Politics from Bowdoin College in Brunswick, Maine, he came back to Little Rock and graduated from the University of Arkansas at Little Rock William H. Bowen School of Law. Director Phillips has practiced law for over a decade with Wright, Lindsey & Jennings law firm, where he is a partner.  At Wright, Lindsey and Jennings, Phillips specializes in trucking litigation, dental malpractice, and municipal governmental relations. 
Director Phillips was recognized by Arkansas Business in 2013 as one of their "20 in their 20s" and in 2020 as one of their "40 under 40." Phillips has also served on the Board of Directors for Big Brothers Big Sisters of Central Arkansas, Little Rock Public Education Foundation, Little Rock Area Public Education Stakeholder Group, and the Pulaski County Imagination Library. He served as co-chair for the Think Big Little Rock strategic planning initiative, which was charged with strategizing ways to enhance life in Little Rock and the surrounding communities. Since 2017, Phillips has also been named by Arkansas Business' as one of the 200 most influential Arkansans.  In 2017, Phillips, along with other alums of McClellan, founded the Friends and Alumni of McClellan Foundation to provide scholarships for McClellan's graduating seniors. In 2018, Phillips launched the "Rock the Culture" podcast to discuss and provide perspective and conversation on all things Central Arkansas, all things Little Rock, all things the Culture.
Antwan and his wife Taneesha have been married for over 10 years and are members at New Creation Bible Church.            
Current Term:

January 1, 2021 to December 31, 2024

Current City Appointments:
                       

Member of the Advertising and Promotion Commission




CONTACT INFORMATION
 
Home:
     
     

200 West Capitol, Suite 2300 




Little Rock, Arkansas 72201




(501) 232-7378

Office:
 

         
Little Rock City Hall
500 West Markham - Room 203
Little Rock, AR 72201
(501) 371-4510
Email:
antwan@littlerock.gov