Brenda "B.J." Wyrick
Ward 7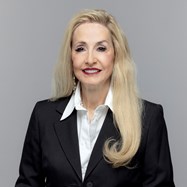 Brenda "B.J." Wyrick serves as City Director for Ward 7. She was first elected to the City of Little Rock Board of Directors in November 1994. She was re-elected in 1998, 2002, 2006, 2010, 2014, and 2016.  From January 2000 until December 2001, she served as Vice Mayor of the City of Little Rock. She currently serves as Vice-Mayor.
A Central Arkansas native, Director Wyrick is retired after a career with Southwestern Bell Telephone and the State of Arkansas Department of Information Systems. Prior to being elected to the City Board of Directors, she served as a member of the Little Rock Planning Commission and the Little Rock Board of Adjustment. She has also served on the Little Rock Commission on Domestic Violence and the Little Rock Youth Task Force. She also was an officer in Southwest Little Rock United for Progress. Director Wyrick was vice chair of the Daisy Bates Holiday Commission. She has also been a member of the Downtown Little Rock Partnership Board of Director.

One of Director Wyrick's initiatives was the reopening of the Ottenheimer Community Center in Southwest Little Rock after a fire had destroyed it. She has also worked to ensure strong communication between the City of Little Rock and the Little Rock School District on issues involving the Southwest Little Rock schools.

Director Wyrick has been married to Phil Wyrick, a former state senator and state representative, for nearly 40 years. Together they have raised two daughters. In 1995 they were the Pulaski County Farm Family of the Year. The family operates Esquire Land & Cattle which raises award-winning grass fed cattle on three different farms.
Current Term:
January 1, 2023 to December 31, 2026
Current City Appointments:
           
         

Arts and Culture Commission (Ex-Offcio)
Little Rock Municipal Airport Commission
Oakland & Fraternal Historic Cemetery Board of Commissioners

CONTACT INFORMATION
 
Home:
     
     
11001 Alexander Road
Mabelvale, AR 72103
(501) 455-4701
Office:
 

         
Little Rock City Hall
500 West Markham - Room 203
Little Rock, AR 72201
(501) 371-4510
Email:
board@littlerock.gov