Joan Adcock
Position 10 At-Large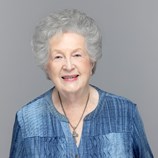 Joan Adcock serves as the Position 10 At-Large City Director. She is the longest-serving City Director in the history of Little Rock.  Director Adcock was first elected to the City Board in November 1992. She has been re-elected in 1996, 2000, 2004, 2008, 2012 and 2016. From January 1995 until December 1996, she served as Vice Mayor.

Director Adcock is a longtime Little Rock resident who graduated from Little Rock Central High School. For several years she was owner and manger of Youngland Children's Shop. She was also founder and director of the Hope Center, a nonprofit welfare-to-work organization.

Director Adcock has been active in establishing neighborhood associations throughout the City. She is also active in Neighborhoods USA (NUSA) and has worked for Little Rock to host the national conference twice. She was also instrumental in establishing the Little Rock Landbank Authority. She has long been a champion of issues important to children.

Another area of interest for her is the City's animal population. Director Adcock was involved in the fundraising and design of the new Little Rock Animal Village. She can often be found volunteering out there in education and outreach efforts as well as helping visitors select a new cat or dog to join their family.

A graduate of Leadership Greater Little Rock, she is a member of the City of Faith Community Board and attends Midtowne Church. She was involved in the Future-Little Rock goal-setting process serving as co-chair of the Rental Inspection Task Force.  Director Adcock has worked with the Southwest Little Rock Christmas Parade as well as numerous nonprofits committed to addressing domestic violence, education, and job training.

Director Adcock has two adult children, ten grandchildren, and five great-grandchildren.                                                                                                                                            
Current Term:

January 1, 2021 to December 31, 2024

Current City Appointments:
            
                      

Animal Services Advisory Board
Civil Service Commission
Land Bank Commission

CONTACT INFORMATION
 
Home:
     
     
6808 Mabelvale Pike
Little Rock, AR 72209
(501) 565-6098
Office:
       

   
Little Rock City Hall
500 West Markham - Room 203
Little Rock, AR 72201
(501) 371-4510
Email:
jadcock@littlerock.gov