Summer Youth Employment Opportunity
As the baby boomers age out of the workforce, there is a growing need for young employees with the skills and work habits to be productive partners for economic growth. The City of Little Rock's Summer Youth Employment Program gives youth the opportunities to learn about careers while earning a wage during the summer. Community business partners offer summer positions as a partner with the City of Little Rock and community stakeholders to develop the critical skills necessary to be successful members of the workforce.
As a business partner, businesses are asked to teach youth the value of earning a wage which encourages them to build employability skills and work ethic leading down a pathway to productive employment. This is accomplished by the assignment of a supervisor to advise and assist a participant on work assignments. Designate work assignments for 32 hours per week, Monday-Thursday.
Research shows that youth who work part-time during the school year and participate in summer employment have a greater attachment to the labor market. Therefore, the City of Little Rock invests $1.06 million dollars in summer employment. These dollars include payroll for participants and worker's compensation insurance. The City of Little Rock Department of Community Programs also employs staff titled Mentors to ensure quality, safe, enjoyable work environments for the employers and youth employees.
For employers interested in participating with the City of Little Rock's Summer Employment Program, please call:
Monica Montgomery
(501) 399-3420
dcpinfo@littlerock.gov
​More Information
Click Images Below to download documents
2023 SYEO Interns Flyer - Instructions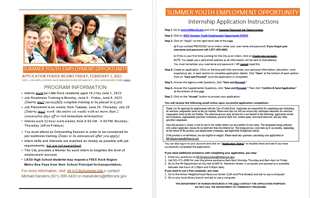 2023 SYEO Worksite Application