City of Little Rock
Multi-Family Single-Stream Recycling Program

The City of Little Rock's Multi-Family Single-Stream Recycling Ordinance went into effect January 1st, 2015. NOW, tenants at complexes with 100-units plus are able to recycle the same as any other Little Rock resident -- Where They Live.

The new Multi-Family Recycling Program positively impacts the City's sustainability goals. To the individual, it's a chance to participate in a greener lifestyle. For complex owners and managers
it's the opportunity to give back to their tenants and City.

If you would like to review what materials are acceptable and unaccepted for recycling, please click here.

To review the City's Multi-Family Single-Stream Ordinance, please click here.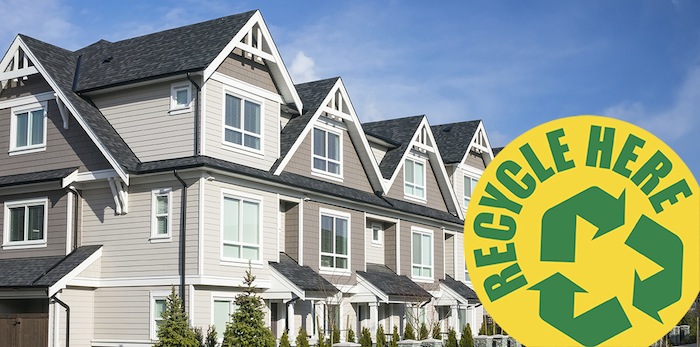 There are two key features of the recycling ordinance:
1) Any residential complex with 100 units or more is required to provide recycling containers for tenants. The recycling containers must be located near the trash containers AND easily distinguishable from the trash container. 
2) Complex owners/managers must provide education and promotion of recycling to their tenants. To help complex owners and managers with tenant education and promotion efforts, we are providing electronic files for all program collateral and graphics. Some files are ready to print, others are graphic elements that can be used in the development of customized printed pieces and webpages. To access these files use the navigation bar on the left to click on "Multi-Family Recycling Graphics" underneath Multi-Family Recycling Program. 
The City of Little Rock Sustainability Educator can help ensure that your management staff is well versed on how to recycle in Little Rock. We offer tours of the Waste Management recycling facility, as well as on-site educational classes about "How to Recycle."
Additionally, the Sustainability Educator is here to help you develop and maintain a fantastic recycling and education program for your tenants. Inevitably, problems occur in the waste stream, this includes recycling too! If your complex is experiencing any problems with recycling, you have any questions/concerns or you need assistance, please contact Faith Mullins at 501-371-4586 or tmullins@littlerock.gov.  
______________________________________________________________________

If you are a tenant at an apartment complex and there is no recycling provided AND you think that there are more than 100 units in the complex, please first contact the manager of the complex to voice your concerns. If necessary you may also contact the City of Little Rock Sustainability Educator at 501-371-4586 or by email at tmullins@littlerock.gov.