Office
Little Rock City Hall
500 West Markham, Room 203
Little Rock, AR 72201
(501) 371-4510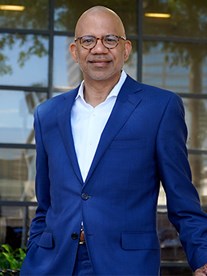 Bruce T. Moore was appointed as Little Rock City Manager on December 17, 2002, after having served as Assistant City Manager since April 1999. Prior to that appointment, he served in a variety of capacities with the City of Little Rock including Assistant to the Mayor and Assistant to the City Manager.
As City Manager, Moore serves as the Chief Administrative Officer appointed by the Mayor and Board of Directors, and is the principal adviser to the governing body on all operational matters pertaining to the overall direction and administration of municipal government overseeing nearly 2,500 employees and a budget of $269.2 million. In addition, he served as the lead City Staff person for the development of William Jefferson Clinton Presidential Center and Park in downtown Little Rock. He was also instrumental in the planning of the 40th and 50th and 60th commemorations of the integration of Little Rock Central High School.
Moore has a Master of Public Administration degree from Arkansas State University and a Bachelor of Science degree from Henderson State University. He is a member of the International City/County Management Association (ICMA), Arkansas City Manager's Association (ACMA), the National Forum of Black Public Administrators (NFBPA) Board of Directors, Henderson State University Board of Trustees, Little Rock Regional Chamber Board of Directors and Downtown Little Rock Partnership Executive Board. He has been the recipient of the Just Communities of Arkansas Humanitarian Award, one of Arkansas Business' "40 Under 40" and the United States Army Commendation Medal/Operation Desert Storm.
Moore was selected by the United States/Japan Foundation as one of twenty Americans to participate in a two-year business and cultural exchange program with Japan. Moore recently completed the 2022 Senior Executive Institute (SEI) Program delivered by the Virginia Institute of Government.  He also completed the Senior Executive in State and Local Government Program at the John F. Kennedy School of Government at Harvard University, International City/County Management Association's Gettysburg Leadership Institute, and is a graduate of Leadership Greater Little Rock. Moore is Co-Chair of the Board of City Year Little Rock, and was recognized by City Year as the 2011 Red Jacket Ball honoree. 
He also received the 2020 Mark of Excellence Award from the National Forum for Black Public Administrators (NFBPA).  The award is presented to an African-American public administrator who has achieved extraordinary success in the field of public management, while demonstrating unparalleled commitment to the community.
Moore is father to son, Luke Thomas, who attends the Little Rock Public Schools.
Over the years, the City of Little Rock has received many recognitions, awards, and accolades.  Among those are:
Number 1 on Kiplinger's "10 Great Places to Live" 2013
Number 2 on Moody's Investors Services "Most Diverse Economy in the Nation"
Number 4 on Strongest Economies – The Brookings Institution MetroMonitor
Number 5 on Top 10 Downtowns – Livability.com
Number 6 on Best Mid-Size City for Jobs - Forbes
Number 6 on Gallup's "America's Happiest Cities"
Number 7 on "Best Value City" by Kiplinger's
Number 10 on Best City for Recent College Graduates – The Daily Beast
Number 14 on Best Metro for Young Professionals by Forbes
Number 15 on Best Cities for Successful Aging – Milken Institute
Number 46 in Forbes's Top 200 "Best Places for Business and Careers


Outside Magazine Best Towns of 2011
National Trust for Historic Places "Preserve America" Recognition – 2009
National Arbor Day Foundation - Tree City USA
Best Complete Streets Policies of 2015
All American City - 1992
International City/County Management Association (ICMA)
2007 Community Health and Safety Award - Criminal Abatement Program
ISO Class 1 Rating – Little Rock Fire Department
Number 6 on Top 100 Best Fleets in the Americas – Fleet Services
National Accreditation for the following City Departments
Fleet Services
Parks and Recreation
Little Rock Police Department
Little Rock Zoo
Leadership in Energy and Environmental Design (LEED)
Fire Station 23 – LEED Certified
12th Street Station – LEED Silver Certification

Energy Star Building Designation
City Hall West Wing
Little Rock District Court Building
Neighborhoods USA 
National Neighborhood of the Year - Pennbrook/Clover Hill Neighborhood 2004
League of American Bicyclists
Bronze Level Bicycle Friendly Designation
U.S. Conference of Mayors, City Livability Awards
2016 Outstanding Achievement – Summer Youth Employment Program
2009 Outstanding Achievement – Little Rock Animal Village 
Government Finance Officers Association recognition
33 Certificates for Excellence in Financial Reporting
21 Distinguished Budget Awards
Arkansas Business City of Distinction
2015 Workforce Development – Summer Youth Employment Program

2015 Main Street Preservation – Creative Corridor

2014 Tourism – Little Rock Marathon and River Lights in the Rock

2013 Workforce Development – Sidewalk Re-Entry Program

2012 Tourism – River Market

2012 Quality of Life – River Trail
Creative Corridor
2016 Arkansas Chapter of American Council of Engineering Companies Grand Conceptor Award
2016 Arkansas Chapter of American Council of Engineering Companies Water Resources Award
2014 American Society of Landscape Architects Honor Award
2014 American Institute of Architects Honor Award 2013 Arkansas Chapter of American Institute of Architects Award
2013 American Architecture Award
2013 Arkansas Chapter of American Planning Association AwarD

Governor's Arts Awards
2016 Arts Community Development - City Director Dean Kumpuris, Sculpture at the River Market
2006 Arts Community Development - Mayor Jim Dailey, River Market

Arkansas Recreation and Parks Association
2015 Program of the Year - Therapeutic Recreation: Branch Out
2014 Facility of the Year – War Memorial Park Playground
2015 Natural Resources Program - Junior Park Ranger Program
2009 Facility of the Year – Fletcher Park
2008 Program of the Year - Little Rock Marathon Training Program
2008 Facility of the Year – Medical Mile