William E. "Bill" Clark Presidential Park Wetlands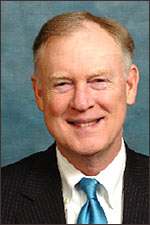 The William E. "Bill" Clark Presidential Park Wetlands involves the restoration of 13 acres of wetlands along the Arkansas River adjacent to the Clinton Presidential Library in downtown Little Rock. The Wetlands is designed to showcase wildlife and river life in a restored wetlands habitat for the education and enjoyment of millions of national and international visitors to the Clinton Presidential Park and Library. The Wetlands is the result of collaboration among The City of Little Rock, Audubon Arkansas, the Arkansas Game and Fish Commission, the Arkansas Natural Resources Commission, the U.S. Army Corps of Engineers, the University of Arkansas Clinton School of Public Service, the Williams J. Clinton Foundation and the City Parks Conservancy.
The Wetlands is named for William E. "Bill" Clark, an avid outdoorsman and strong business, civic, charitable, and political leader in Arkansas for over three decades. The Clark and Dillard families created one of the South's largest construction firms, CDI, of which Bill served as Chairman and Chief Executive Officer. Bill built his personal and professional reputation nationally as CDI successfully completed award-winning projects from coast to coast. As the builder of the Clinton Presidential Library, Bill Clark and CDI turned the attention of the world to Little Rock for innovation, craftsmanship, skill, and quality in completing perhaps the most intriguing, efficient, environmentally-sensitive Presidential Library in our nation's history.
Bill Clark always loved the outdoors and devoted much of his time to preserving and enjoying it. An avid hunter and fisherman, Bill spent many sunrises and sunsets overlooking the Arkansas River and wetlands, enjoying nature. Bill Clark was respected and beloved throughout Arkansas for his leadership, generosity, candor, humor, and ability to make things happen. Throughout his career, he transformed many landscapes, and the transformation of the Wetlands is a tribute to him personally. It is also a major, environmentally-sensitive addition to the riverfront of Little Rock and to the area which is now the home of the Clinton Presidential Library and Heifer International world headquarters.
Memorials for the William E. "Bill" Clark Presidential Park Wetlands may be made to the City Parks Conservancy, P.O. Box 7329, Little Rock, AR 72217.