Operating and Policy Guidelines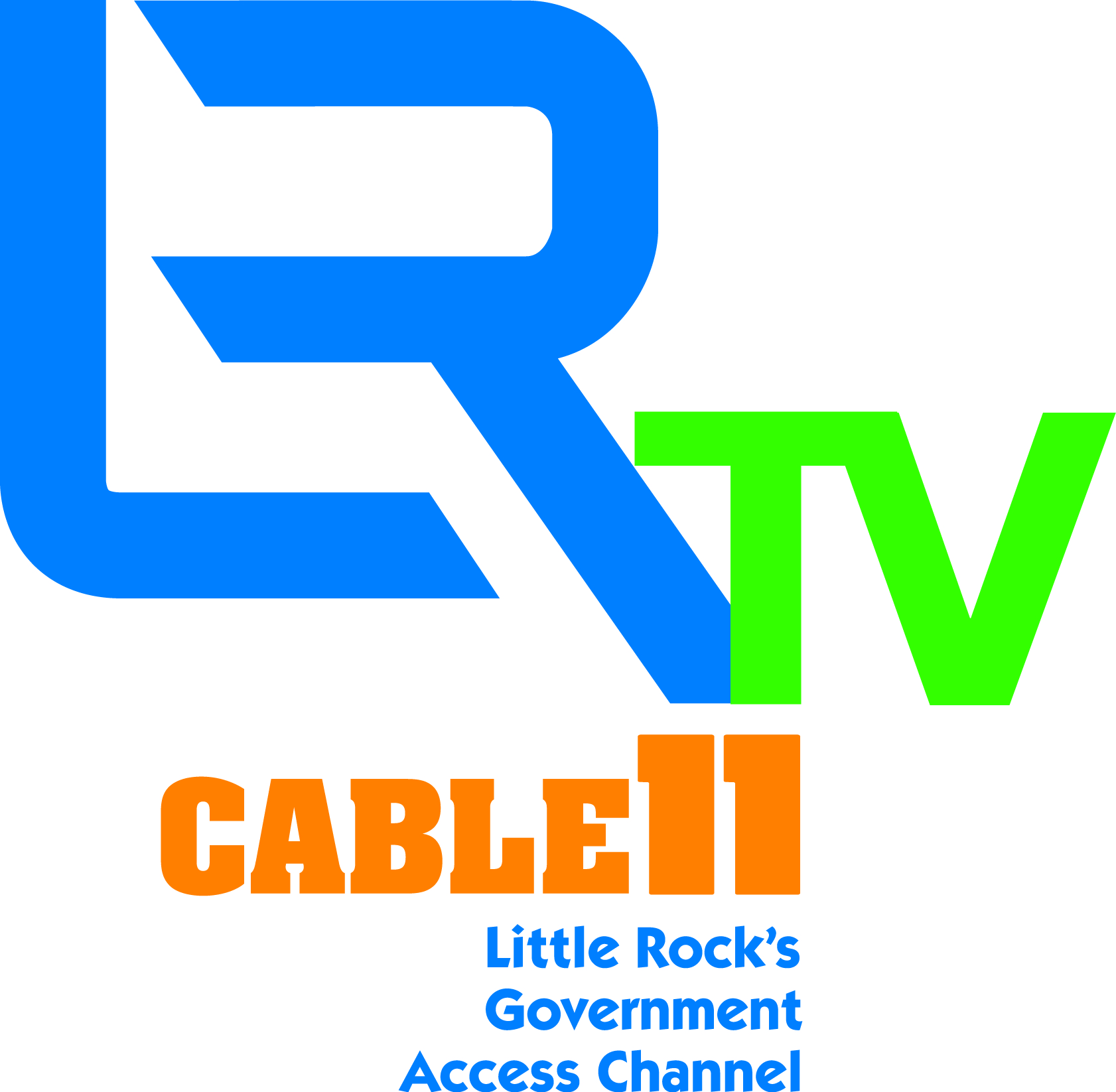 Little Rock Television, Government Access Channel 11, is a Public, Educational, Governmental (P.E.G.) Access Channel as provided for under the Cable Communications Act of 1984, Section 531, and the cable franchise agreements with licensed franchise serving Little Rock.
LRTV Channel 11 is fully programmed and operates on a twenty-four (24) hour, seven (7) day-a-week schedule. Through the Comcast franchise, the channel is carried on the basic tier and reaches every Little Rock subscriber in the local cable system.  In addition, LRTV is carried on AT&T U-Verse Channel 99. 
Mission
The mission of Government Access Channel 11, Little Rock Television (LRTV) is to provide residents of Little Rock with quality local government programming. To accomplish this mission LRTV will air information regarding the many programs, services and opportunities made available by the City of Little Rock by providing access to the activities and process of their municipal government, via LRTV.
Statement of Purpose
The purpose of this document is to establish policy on programming, operational criteria and the role of LRTV in politically oriented programming; in pursuing diversified programming of value and interest to the citizenry; in insuring policy and recommendations consistent with the FCC rules for a cable broadcasting station.
To those ends, this document is intended to clarify functions and services of Little Rock Television, and to provide operational direction for staff.
Definitions
Cablecasting:

Broadcasting programming via cable; since LRTV is only available through cable, its programming is 'cablecasted' rather than 'broadcasted.'
Bulletin Board:

The Bulletin Board is the community calendar that displays on the channel in between programming and at scheduled times throughout the day; it provides information of community relevance, news items, announcements from governmental bodies and LRTV programming information.
Government Access:

Programming that is produced and/or provided by a governmental body, institution, or government-funded organization; programming presenting 'gavel-to-gavel' coverage of government meetings; programming distributing information from a governmental body or branch of government.
Public Access:

Programming that is produced and/or provided by a community member or a member of the public-at-large, regardless of content.
Educational Access:

Programming that is produced and/or provided by a member of an educational institution, or one that is produced by another party with the intent of delivering content of educational value or the distribution of information from a school district.
Copyright:

The exclusive legal right of publication, duplication, imitation, or sale of literary, musical or artistic work.
Obscene, Indecent, and/or Libelous Material:

Any material in a program and/or presentation which would be deemed obscene, indecent or libelous by local community standards or by standards established by any Federal, State or Local regulation, court ruling or law applicable to cable television.
Objectives, Priorities and Exclusions
To achieve its mission, the following goals have been established:
To create non-commercial, non-partisan, outlets for the distribution of high-quality municipal programming to an informed citizenry.

To enhance access to the processes of government, and government officers.

To encourage interaction and dialogue between citizens and City Officials.

To enhance delivery of quality government services to the public.

To provide greater public awareness and understanding of City Government by producing and distributing information about policies, procedures, resources, activities, services, events and city jobs available to citizens throughout the City.

To increase community awareness of the depth and breadth of important issues confronting city government by providing programming that informs, educates and enlightens, as well as, exchanges ideas and opinions that shape community life.

To enhance public awareness of electoral processes, government decision-making and to encourage public participation.

To provide accurate, timely information in times of emergency and about emergency preparedness.

To act as a resource of television technologies for all City Departments and agencies and enhance their public information dissemination.

To support city employee training.

To promote use and awareness of television services programming and information.

To ensure LRTV meets the needs of City agencies and citizens.

To enhance the quality of life in Little Rock through programming that contributes to making the Little Rock area a better place to live.

To insure that LRTV programming meets a journalistic mode of unbiased non-partisanship.

To require LRTV programming and operations meet ethical, professional and broadcast quality technical, production and artistic standards.
Priorities
In providing each day the maximum practicable number of hours of on-air programming of value and interest to the public, the following priorities for use of personnel and equipment resources of LRTV are established:
Live and delayed coverage of Little Rock City Board and Agenda Meetings.

Live and delayed coverage of other local government public meetings.

Local government sponsored programs and activities that affect the public.

Informational programming on local government activities.

Acquired programming consistent with the mission statement and goals of LRTV.
Exclusions
LRTV shall not air programming containing:
Libelous statements or matter.

Copyrighted material without appropriate written releases or permissions.

Obscene or indecent material as defined by city ordinance or community standards.

Commercial speech.

Political programming.

Material submitted for cablecast which does not meet professional broadcast production standards in quality of picture, sound, and technical or editorial execution.

Any other material inappropriate to the mandate, mission, goals, and priorities of LRTV.

Any material, which is in the judgment of the City Attorney's Office, is inconsistent with Federal, State or Local law, ordinance or rule, which may subject the City of Little Rock to liability, shall not be aired.

Technically unusable material as determined by video production staff will not be shown.
Production Policies
RESOURCE ALLOCATION

Scheduling of production personnel and equipment shall be governed by priorities set forth in GOALS, PRIORITIES and EXCLUSIONS. Given limited staff and technical resources available, LRTV cannot operate like a commercial station news department or video production house.

SCOPE OF WORK

LRTV shall not compete with the private sector.
Utilization of the channel or equipment for personal gain will not be permitted.
Loaning of equipment for personal or outside use shall not be permitted.
Audio and video production by LRTV Staff shall be available primarily to City Government Departments/Divisions. If sponsored by a City of Little Rock Department, Agencies and activities associated with local government may request the use of LRTV Staff and resources.

RESPONSIBILITY FOR CONTENT

LRTV management has ultimate responsibility for content airing on the channel.

Responsibility for the content of any programming produced by LRTV for any government department or division lies solely with the initiating department or division. Department and Division directors shall be required to approve, in writing, programs and production requests relating to their departments and divisions. An approved script, story line or outline must be finalized before production can begin. LRTV shall have the right to edit copy without changing content if such copy does not meet professional journalistic and broadcast standards. Client will be informed of editing adjustments before material airs.

Non-Discrimination Policy:

Programming on LRTV shall depict people in a manner which does not discriminate or foster discrimination on the basis of race, color, creed, religion, sex, national origin, age, disability, marital status, sexual orientation, gender identity, genetic information, or political opinions or affiliation.

Retention and Ownership of Tapes/DVDs:

All videotapes shall be the property of the City of Little Rock. It shall be a general policy to not retain all videotapes of staff produced programs, meeting, and events. At any time, tapes/DVDs may be reused and the original material erased. Videotapes/DVDs shall not be considered an official record of any meeting and there shall be no liability for inadvertent erasure or omissions. LRTV will retain the board of Directors business and agenda meeting and Planning Commission meeting and Planning, Rezoning and Conditional Use Hearing for three (3) years. Copies requested by the public will cost $10.00 per meeting or event that is contained on one (1) DVD. Requesters shall be required to pay for discs upon delivery. Meetings older than three (3) years should be inventoried and delivered to the Butler Center for Arkansas Studies at the Main Library. Tapes/DVDs not owned by LRTV cannot be copied and sold.

Copies of programs:

Viewers who wish to make copies of our programming for individual home viewing may do so, without charge or fee, by using their own home audio/ video recording device. The Little Rock Television production copyright on these programs remains in effect and no commercial use is permitted. For non-LRTV productions, intellectual property and copyright laws apply.

New Show Concept:

Concepts for new shows must be brought to LRTV Staff and Assistant City Manager for approval. The title, format, host, number of shows, topics, amount of time needed per show, etc. should be provided in order to allocate usage of LRTV Staff and equipment.

Rebroadcast:

City Board and Planning Commission Meetings

'Gavel-to-gavel' coverage will be shown for a period of six (6) days stating on the day the meeting was held live and subsequently for six (6) days after.
'Gavel-to-gavel' coverage shall be interpreted as uninterrupted coverage from beginning to end - editing of any kind is prohibited.

Informational Programming:

Programming will be shown at the discretion of the video studio and scheduled around 'gavel-to-gavel' coverage. Programming will not be aired for more than thirty (30) days and will be aired at least twice. A program can be played less if there is a 'just cause.'

'Just cause' shall include extreme length of meeting, which interferes with multiple 'gavel-to-gavel' programming, or technical problems with the tape or taping event.

Fees:

If a Department requires certain material and/or supplies, Departments should bear cost.
Operational Procedures
LRTV Staff will be responsible for quality of signal transmission to the Cable Operator's Head End. The current and future guidelines for signal quality shall be those set out in Part 76 of the FCC rules, as amended. The necessary tests will be performed on a weekly basis in accordance with good engineering practices. Additionally, the parameters of the modulating video signal will conform to Electronic Industries Association standard RS-170A, as amended.
All videotaped programs shall meet the following minimal technical standards. Videotape format must be DVCPro, S-VHS, VHS or 3/4 ". All videotapes must be of such quality that the program does not have excessive tracking errors, dropouts or jitter. Color phase must be correct. Chroma levels should not cause blooming or noise in the audio. Edits should be clean and not cause the picture to roll. Audio must average "0" level. Tapes that do not meet minimum technical standards will not be aired.
The administration of LRTV and use of the studio and equipment will be under the supervision of the Studio Director at all times. Any conflict in scheduling or use of equipment will be solved with the Studio Director having final authority.
Types of Programs:
Live Cablecast: Live coverage of selected meetings and events will be provided. This will consist of Little Rock City Board and Little Rock Planning Commission Meetings, live call-in shows and other special programmed events.
Taped-Delayed Cablecast: Taped meetings, shows and events videotaped in advance for cablecast at a later time. Note: Some events will be cablecast live and will also be taped for later playback.
Staff-Originated Programming: Programs of this nature include programs for City Departments, issues related to City Government or about groups/committees/boards, etc., that are affiliated with City Government or which use public dollars. These programs could be either live or taped-delayed cablecasts.
Acquired Programming: Material that is related to Municipal, County, State, or Federal Government that is produced by an outside source that can be purchased, rented or borrowed for cablecast. In addition, programs disseminated through satellite down-link that are related to Local, State, or Federal issues may be cablecast. Written permission to air these shows must be obtained before airing and retained on file.   Any program with a kill date or number of airings indicated must be labeled as such.
Bulletin-Board Information: Character generated messages related to City activities, programs, services and events sponsored in whole or in part by the City of Little Rock or other governmental unit affecting Little Rock Citizens. This service will operate when other programming is not scheduled.
Editing Policy
Editing of programming on Government Cable Channel shall be subject to the following.
Public Meetings: Any public meeting cablecast on Government Cable Channel 11, be it live or on videotape, will be aired in its entirety, gavel to gavel without editorial comment. Exceptions to this policy may occur only when editing out possible recesses, comply with public standard of decency or when technical limitations restrict production procedures. Supplemental information on agenda items which the City Manager's Office determines will aid the viewer in understanding the issues or matters under discussion may be provided.

Departmental Programs: Any programming prepared or provided by a municipal agency/department may be modified or edited as deemed appropriate to the policies governing LRTV use by the City Manager's Office or an agent directed by the City Manager's Office. This determination may be made by policy restrictions or by technical, scheduling or staff limitations and may be subject to the review.
Sponsor Acknowledgments
LRTV may provide 'on- air' acknowledgments of program sponsors of LRTV programs, in accordance with The National Federation of Community Broadcasters (NFCB) Guidelines to underwriting for public radio stations, dated October 1992. These guidelines are as follows:
Underwriting defines what LRTV may and may not do in announcing funding for a specific program or series of programs.

If money is given without direct connection to any programming, it is considered a donation. Donor announcements are not required, but may be made at LRTV discretion.

When announcements for donations or underwriting from for profit entities are made, may include:

A trade name or brand name
Location and phone number
Logograms or slogans that are not of a promotional nature
Value-neutral descriptions of a product line or service that aid in identifying the contributor
Names or service listings that do not include qualitative or comparative language

LRTV is not allowed to promote the goods or service of any underwriter or donor. In order to avoid "promoting," announcements made regarding entities who have furnished some consideration must not include any:

Mention of price: no interest rate, pricing information, discount, savings, or value of any kind may be included in acknowledging a contribution.
Call to action: any announcement regarding a company or person who furnishes remuneration to the public broadcaster may not suggest that the listener take action - the listener cannot be encouraged to "call," "come by," "try," or even "be sure" in relation to a product or service.
Inducements to buy: it is improper to entice the viewer to make a purchase by offering bonuses, freebies, or other specials.
Qualitative or comparative language:

This section prohibits descriptive or comparative language of a product or service. An announcement may not explain, for example, that something is 'perfect,' 'less filling,' or is the 'largest,' 'smallest,' or 'most' anything.

Cablecast Commercialism of Public Forums is Discouraged: In furtherance of this policy LRTV will get tight shots of speakers in a manner to exclude commercial banners and logos wherever feasible. It being understood that a commercial name may appear, and LRTV cannot control its exclusion, such as hotel names or other sponsor's logos on speaker's podiums.
Promotions
Promotional announcements for municipally sponsored events or activities are generally, acceptable for cablecast on LRTV. Public Service Announcements for agencies outside of municipal government are subject to appropriateness as determined by the City Manager. No commercial oriented promotions will be considered for cablecast.
Political Programming
No political programming will be permitted on the Government Access Channel with the exception of providing factual information on any ballot issue affecting Little Rock voters.
CANDIDATES:
LRTV shall not cablecast campaigning by, or on behalf of, any *candidate for public office. Use of LRTV by elected officials seeking reelection and candidates seeking election is prohibited.
*A candidate for public office, any individual, incumbent or otherwise who:
Has filed a Declaration of Candidacy with the City Clerk for the office of Mayor or Director, or
Has otherwise qualified under County, State or Federal Law to hold the office for which he or she is a candidate, or
Has qualified for a place on the ballot or has publicly committed himself or herself to seeking election by the write-in method.
Access Policy
Access to LRTV is limited to municipal agencies/departments and those entities with a direct corporate relationship with the City of Little Rock. LRTV is not intended for general public use.
Public Meetings: All public meetings of City policy-making commissions of boards are authorized for cablecast. All regular City Board meetings will be cablecast. Meetings related to governmental committees, boards and commissions might be cablecast at the request or by permission of the presiding officer, logistics permitting.

Informational Programming: While all programming on LRTV is considered to be informational, those herein are considered to be pre-produced feature programs and program series. All municipal agencies/departments may submit through their department head, requests which they feel may be appropriate for cablecast on LRTV. Any programming request shall be subject to review of the Assistant City Manager and LRTV Staff. The decisions of the Assistant City Manager and LRTV Staff may be appealed to the City Manager with the City Manager's decision made final. Written permission for use of copyrighted material must be authorized in advance by the materials owner and obtained by the sponsor of said material.

Billboard Information Messages: Information for the billboard may be submitted by any municipal agency/ department. Messages submitted should be consistent with the previous policies and intentions of this policy statement and shall be cablecast at the discretion of the Assistant City Manager and LRTV staff. Decisions of Assistant City Manager may be appealed to the City Manager with the City Manager's decision made final.
Grievance Procedure
AUTHORITY:

City Manager shall have the discretion to interpret definitions and enforce prohibitions and policy guidelines and procedures.

PROGRAMMING AND POLICY

Complaints: must be made in writing to the Assistant City Manager or LRTV Staff. Staff shall assist persons with disabilities who are unable submit a complaint or grievance in writing.
Response to Complaints: After receipt of a complaint, city staff shall attempt to resolve the issue with the complainant. A written response outlining management's decision on the issue shall be provided for the complainant within ten (10) working days of receipt of a complaint or additional time will be requested of the complainant if needed to obtain more information.
Appeals: Written appeals of decisions shall be made to the City Manager of the City of Little Rock, who shall attempt to resolve the issue with the complainant within fifteen (15) working days of receipt of an appeal.
Amendments
The Policies and Procedures stated herein may be amended on an as needed basis as recommended to the City Manager's Office.