Coronavirus Disease 2019 Situation Updates
CDC is responding to an outbreak of respiratory disease caused by a novel (new) coronavirus that was first detected in China and which has now been detected in almost 90 locations internationally, including in the United States. The virus has been named "SARS-CoV-2" and the disease it causes has been named "coronavirus disease 2019" (abbreviated "COVID-19").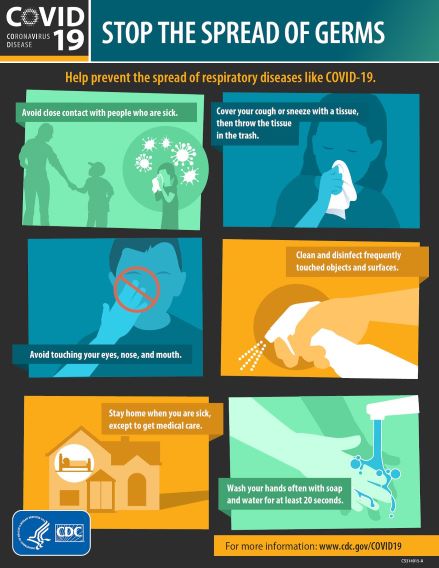 Four Ways to Stop Touching Your Face
By Jenny Gross, The New York Times
March 10, 2020
Now that we know that it's bad to touch our faces, how do we break a habit that most of us didn't know we had?
Throughout the day, we touch a lot of surfaces — doorknobs, elevator buttons, subway poles — where viruses, including the new coronavirus, can linger for days. From there, microbes can piggyback on our fingertips to our noses, mouths or eyes, all of which are entry portals for the coronavirus, as well as other viruses and germs.
It took the coronavirus outbreak(opens in new window) to make many of us aware of just how often we reach for our faces.
"It's a very difficult habit to break because we all do it, and oftentimes we're not even aware we're doing it," said Dr. Vanessa Raabe, assistant professor in the department of medicine at NYU Langone Health.
Here are four tricks to help you stop.

National Diabetes Statistics Report, 2020
Key findings include: 34.2 million Americans—just over 1 in 10—have diabetes; 88 million American adults—approximately 1 in 3—have prediabetes; New diabetes cases were higher among non-Hispanic blacks and people of Hispanic origin than non-Hispanic Asians and non-Hispanic whites.

Other Diseases & Conditions