Little Rock Friendly Driver Certification Program
People move on Little Rock streets by car, bus, bike, and foot (Fig. 1).  Some may favor one way over another for lots of reasons, but most residents walk and drive regularly (even if only to get to and from the car).
We have some safety challenges, especially with vehicles hitting people biking and walking. The Little Rock metro area was rated one of the 20 most dangerous places to walk in the United States by the latest two Dangerous by Design reports (2016 and 2019).
The City of Little Rock is making an effort to better engineer our streets for people moving in all of these ways, but education is also an important part of keeping all users safe.  Education targeted at cyclists is important, but drivers are at fault in about half of all car vs. bike collisions (pg. 1).  The Friendly Driver Program is one of the first of its kind in the country to help teach drivers to more safely drive around cyclists and pedestrians.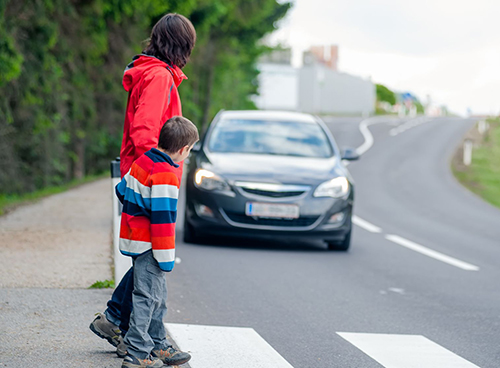 Figure 1.  Drivers can help keep pedestrians safe.
If you sometimes drive a motor vehicle in Little Rock, YOU can help make our streets safer for all users!  By taking the Friendly Driver course, you can become a City of Little Rock Certified Friendly Driver.  CLR Certified Friendly Drivers understand how to safely drive around people driving bikes and walking and know how to use new types of infrastructure installed to make bicyclists and pedestrians safer (e.g. bike lanes, pedestrian hybrid beacons).  Even the best drivers will learn something new, I guarantee it!
Reviews
Initial feedback has been very positive.  Anonymous feedback:
"Was the information covered was understandable and useful?" 4.4 out of 5 average
"Was the instructor knowledgeable and helpful?" 4.5 out of 5 average
"Would you recommend the Program to a friend" 92% said "Yes" and 8% said "No"
"How did this course affect your confidence to walk and bike on Little Rock streets?" 58% said "Increased", 40% said "No Effect" and 2% said "Decreased"
Quotes
"I really enjoyed the training from Jace.  He explained everything so well."
"Thought I knew a lot about Bike/Driver safety—I learned a lot!"
"I would recommend everyone gets a chance to take a course such as this one."
" I was able to ask questions to which he gave very useful answers."
"GREAT CLASS!"
Effective
Scores on the post-test increase 155%! over pretest scores.  The Program is very effective at teaching drivers to more safely drive around bicyclists and pedestrians.
Participate as Individual
This program is free and available to all residents or users of Little Rock streets.  Please register at Appointy.com (with the button above) at least 24 hours prior to the class meeting time to avoid the possibility of class cancellation without notice.  If you signed up for a class that you are no longer able to attend, please cancel the class on Appointy.com.  Scheduled 2019 dates are below (2018 dates):
Wednesday January 16th 2019 5:30-7:30pm (Centre, L)
Thursday January 24th 2019 5:30-7:30pm (Centre, L)
Thursday February 7th 2019 5:30-7:30pm (Centre, L)
Monday February 11th 2019 5:30-7:30pm (Centre, L)
Tuesday March 5th 2019 12:00-2:00pm (Centre, Jo)
Wednesday March 13th 2019 5:30-7:30pm (Center, Ja)
Tuesday March 26th 2019 10:00am-12:00pm (Centre, Jo)
Saturday March 30th 2019 10:00am-12:00pm (CVSS Resource Center, 2715 W. 7th St., Ja)
Thursday April 4th 2019 5:30-7:30pm (Centre, Ja)
Wednesday April 17th 2019 12:00-2:00pm (Centre, Jo)
Wednesday April 24th 2019 6:30-8:30pm (Centre, Ja)
Monday May 6th 2019 11:00am-1:00pm (Centre, Jo)
Wednesday May 15th 2019 5:30-7:30pm (Centre, Ja)
More class dates and times to come.  Keep checking in!
Location
Centre = Centre at University Park, 6401 W 12th St., Little Rock, AR 72204
RM = Rivermarket, 400 President Clinton Ave., Little Rock, AR 72201, 2nd Floor (above David's Burgers)
Certified Friendly Driver Teachers
All Friendly Driver Teachers are Arkansas licensed drivers, trained in the League of American Bicyclist (LAB) SMART Cycling class, are LAB League Certified Instructors,and have reviewed Arkansas/Little Rock pedestrian laws, infrastructure, and safety incidents.  They are all also instrumental in developing the City of Little Rock Friendly Driver Program.

S = Stacy Tierney
E = Edward Casey
L = Lindsey Clark
Ja = Jace Davis
N = Nathan Keltch
Jo = John Landosky
Registration
While classes are free to take, you MUST register to take a class.  Register using the button below.  If you have any trouble registering, email jlandosky@littlerock.gov with your preferred date and time.  Due to popular demand, we are currently scheduling new classes as well!  This page will be updated with new class times/dates as they become available.
Participate as a Business or Organization
We would love to bring this program to YOU, for FREE.  Organizations and businesses with several participants can also work with the city to schedule a Friendly Driver course at at time, date, and location that works best for you.  Especially for businesses with fleet drivers, this can help keep safety records high and employee absenteeism and insurance rates low.  The city will also promote your business or organization as having participated in the City of Little Rock Friendly Driver Program. 
Contact John Landosky (jlandosky@littlerock.gov) to arrange a time and date to host a Friendly Driver course at your business or organization.
Want to do more?
Have you taken the course, or are planning on taking the course, and are excited about its impact and want to do more to promote it?  Talk to your friends, family, colleagues and network about the Friendly Driver Program and encourage them to attend.  Share this Facebook promotion or this webpage on social media along with your personal testimonial.  Print, post, and distribute this flyer.  Together we can make Little Rock streets safer for everyone.
Program Funded through the Road to Zero Program
Friendly Driver ongoing costs are fully supported through June 2019 by a National Safety Council's Road to Zero grant administered through a collaboration between America Walks and the University of North Carolina Highway Safety Research Center.  The City of Little Rock is proud to have been chosen as one of 12 focal communities for their Road to Zero Program. 
Program Development and Promotion Funded by AARP
Thank you AARP Livable Communities Challenge Grant for helping us create this important program and increasing the safety of our transportation system for users of all ages and abilities!