Little Rock Friendly Driver Program
People move on Little Rock streets using multiple transportation modes (car, bus, bike, and foot) for a variety of reasons.  The City of Little Rock is making an effort to better engineer our streets for people moving in all of these ways, but education is also an important part of keeping all users safe.  Education targeted to people who drive bicycles is important, but only accounts for approximately half of the users at fault in car vs. bike collisions (pg. 1).  Car vs. pedestrian collisions are even more common and more deadly in Little Rock than car vs. bicycle collisions.
The City of Little Rock is in the process of developing a Friendly Driver Program for users who primarily drive but want to learn how to drive more safely in the company of bicycles and pedestrians and the infrastructure that accommodates them (Fig. 1).  The Program is based on the successful Bike-Friendly Driver program developed by the City of Fort Collins, but as was done in Minnesota and Oregon, will be expanded to include pedestrians (Fig. 2).  Upon successful completion of the program, participants will be certified as Little Rock Friendly Drivers and businesses who encourage their fleet drivers to take the course will be designated Little Rock Friendly Driver Businesses.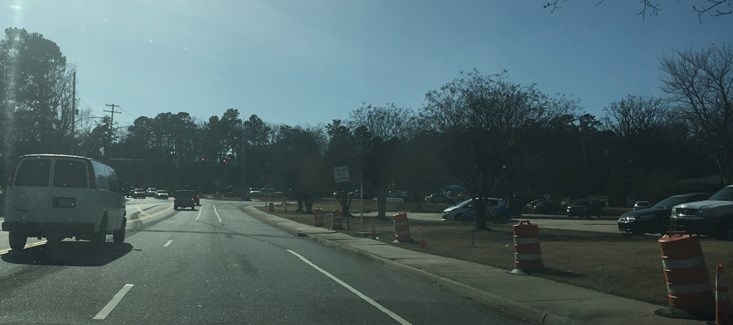 Figure 1.  How should cars and bikes move in this space (N. Rodney Parham and Pleasant Forest intersection)?  Who should be where and who yields to whom?  Most drivers did not learn the answer to this in their driver education classes.
Program Development
While the City of Fort Collins has generously provided a start-up guide for other communities, the success of the program will depend on it being rooted in Little Rock.  It will be based on Arkansas and Little Rock traffic laws.  It will include stories and bios from Little Rock residents.  It will use examples of car vs. bike and car vs. pedestrian collisions in Little Rock. It will include bike and pedestrian infrastructure (bike lanes, pedestrian hybrid beacons, etc.) present in Little Rock.  This program will take time and effort to develop, refine, and implement, which is why the City is seeking a Program Supervisor and Program Teachers.
Figure 2. This is the City of Cupertino's adaptation of Fort Collins' Bike-Friendly Driver Program.  Little Rock will take this program and make it our own (please don't "overlearn" from this video), but our Program will include many of these same elements.


Program Team
The Program Supervisor and Program Teachers, along with the BikePed Coordinator, will constitute a team to develop the Program and make it a success.  The Program Supervisor will be the focal point of the Program, but will rely on the commitment and expertise of the Program Teachers and BikePed Coordinator to create and implement a successful program.  Please read more about the Program Supervisor and Program Teacher positions below and consider becoming part of the team!  The closing date for applications is fast approaching (Program Supervisor: July 27th, Program Teacher: August 3rd)!
Funded by AARP Livable Communities Challenge Grant
Thank you AARP Livable Communities Challenge Grant for helping us create this important program and increasing the safety of our transportation system for users of all ages and abilities!