The Southwest Trail
Would you and your family like to ride your bikes to Shannon Hills?  Benton?  Hot Springs?  Our communities are working to create a 65-mile paved, recreational trail to make that a fun and relaxing experience (Fig. 1).  A Rails to Trails Magazine article highlights our work to make this trail a reality.  This page gives additional details.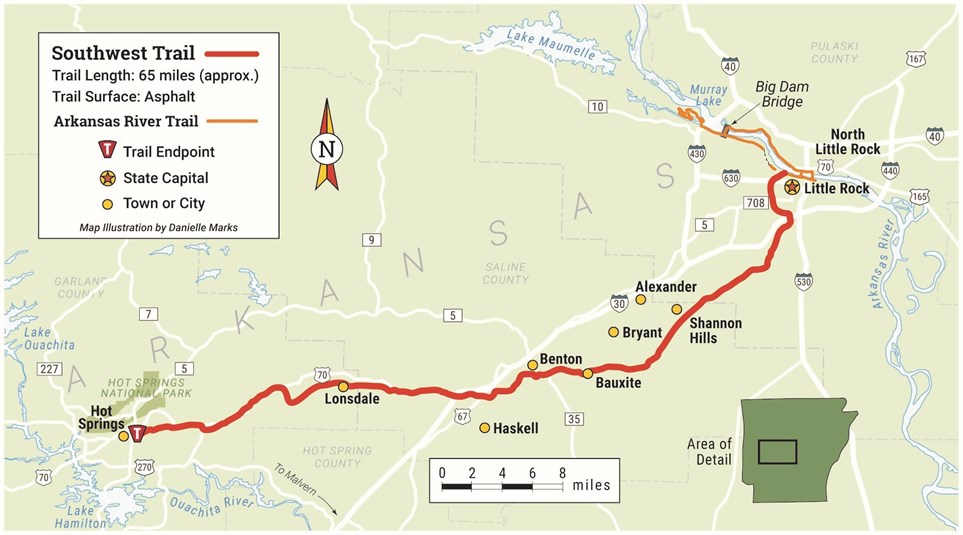 Figure 1.  The proposed Southwest Trail route, anchored by Little Rock and Hot Springs, but connecting many communities in between.  Map courtesy of Rails to Trails Magazine. 
Why Build The Southwest Trail?
Regional Benefits
The 15-mile Arkansas River Trail loop is an important Little Rock asset (Fig. 2).  While Arkansas and Little Rock have health and physical inactivity challenges, the River Trail promotes active recreation (and transportation).  It creates a safe and enjoyable space to walk and bike and thereby encourages those activities.  The River Trail, its elements, and the destinations along it easily account for half of the "25 Best Things to Do in Little Rock"; the River Trail promotes tourism and economic growth in Little Rock.
What the River Trail brings to Little Rock, the Southwest Trail could bring to Central and West Arkansas (Fig. 1), but even that may be thinking too small.  Judge Buddy Villines sums it up:
"A 2-mile trail is a great amenity for a neighborhood. A 20-mile trail is a great benefit for a city. But a 50- or 60-mile trail? That's a national attraction."
Judge Buddy Villines
The Southwest Trail won't simply bring the same benefits to a larger area, it will amplify them.  The Southwest Trail will bring economic benefits from its construction (pg. 3-2), increasing property values along its length (pg. 3-2), and increasing tourism (approximately 1000 out-of-town tourists per mile per year!; pg. 3-3).  It will increase community health and decrease healthcare expenses (pg. 3-4 & 3-5).   The community health benefits alone will pay for the cost of the trail's construction in less than two years, a projection supported by a recent economic impact study of the Razorback Greenway (Table 1)!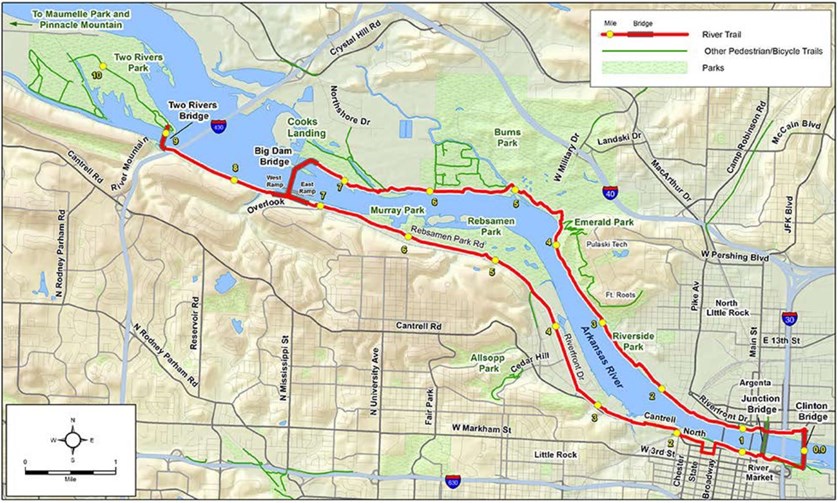 Figure 2.  The Arkansas River Trail illustrates, on a small scale, the possible benefits of the Southwest Trail.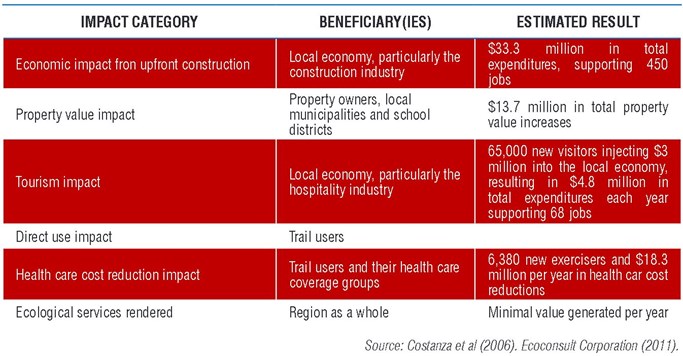 Table 1.  Summary of the economic benefits of the Southwest Trail (pg. 3-7). 
Local Benefits - Little Rock
In addition to providing a regional recreation corridor with many economic benefits, segments of it will also provide local transportation benefits. This page will discuss these benefits in terms of Little Rock, but there will be local transportation benefits in every community the Southwest Trail touches.
Transportation Equity
Since its construction, I-630 has become a socioeconomic divide; the trail along the proposed route in Little Rock would bridge that divide to create a safe corridor for affordable transportation modes, connecting residents with jobs and other destinations (Fig. 3).
Connectivity to Arkansas River Trail
A strong connection between the Arkansas River Trail and the Southwest Trail will encourage local and regional cross-use of the trails as transportation corridors (Fig. 4). For the Southwest Trail, that would mean connecting to North Little Rock, West Little Rock, and downtown Little Rock/Rivermarket and all of their amenities.  Among other benefits, a strong connection to the River Trail will allow Southwest Trail users to access restaurants, hotels, bike shops and just about any other resource they might want or need after their journey, all by bike.
Connectivity to Destinations
In addition to the River Trail, the proposed ALTA Planning + Design route makes other important connections (Fig. 3).  The Clinton Presidential Library is the most visited tourist attraction in Little Rock and helped create Rivermarket.  Together, the River Trail and the Southwest Trail could connect tourists at the Clinton Library to several destinations along the Southwest Trail, all through a fun, active experience.  By connecting to Union Station, travelers from across the country could get off a train, get on a bike, and visit the Clinton Library, explore Little Rock/North Little Rock, or ride southwest (travelers could either bring their own bike or access Metroplan's bikeshare system).  The Capital Mall is an important tourist destination for Clinton Library visitors to visit; the trails could also connect Capital Mall staff to Rivermarket and other dining options.  Second only to the Clinton Library, Little Rock is nationally known for the Central High School Historic Site; these trails could provide an easy, fun way for tourists to explore both attractions.  The Arkansas State Fairgrounds hosts the state fair and many other events.  When Fairgrounds visitors are able to safely and conveniently access Central High, the Capital Mall, and other destinations, they may not limit their visit to Little Rock to the borders of the Fairgrounds.  Fourche Bottoms is an rarely accessed Little Rock treasure.  The Southwest Trail will run right through it, arguably creating some of the most beautiful sections of the trail (Fig. 5).  The Southwest Trail will also be an important part of many Safe Routes to Schools and Safe Routes to Parks within Little Rock (Fig. 3).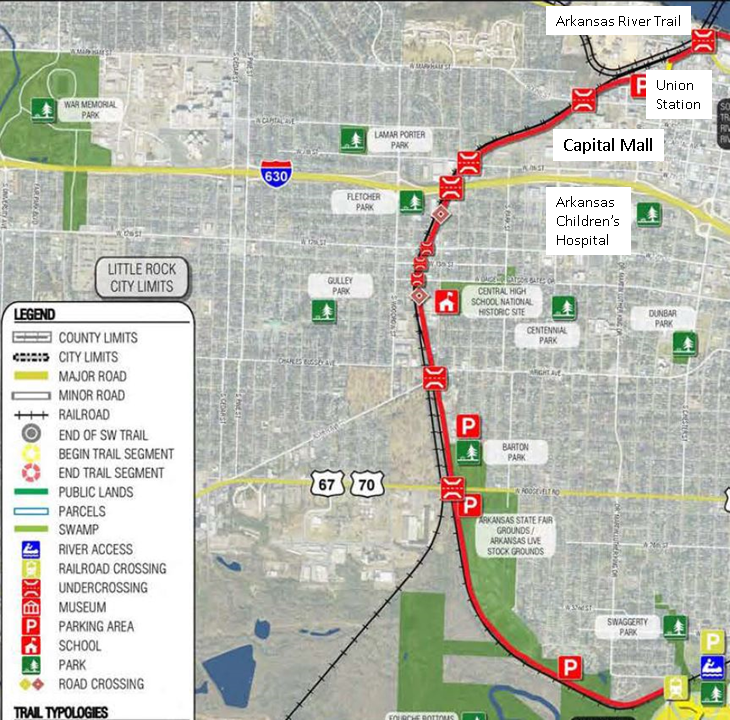 Figure 3.  The ALTA Planning + Design route will create a north-south corridor through the heart of Little Rock, connecting people to destinations for tourism, recreation, and transportation.  Figure by ALTA Planning + Design with additions by BikePed Little Rock.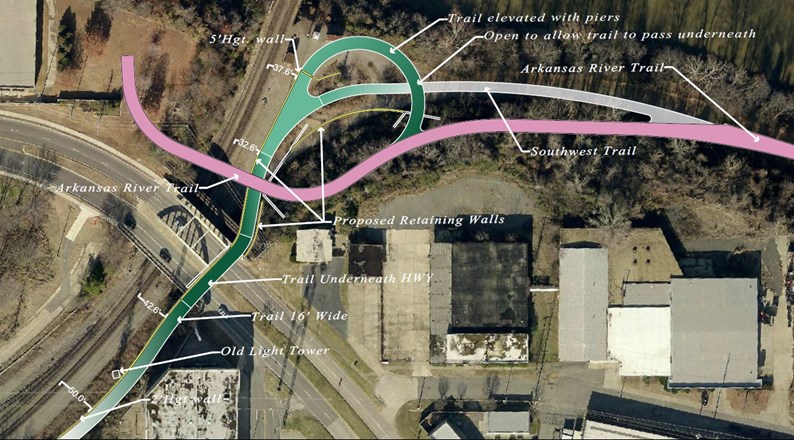 Figure 4. The proposed connection between the Southwest Trail (green) and the Arkansas River Trail (pink) at the Department of Arkansas Heritage.  Figure by Leland Couch.

Figure 5. The Southwest Trail will increase visitation to Fourche Bottoms.  Figure by arkansas.com.
What Would It Look Like?
The trail will typically be a 10-12 ft. wide asphalt trail, similar in design to the Arkansas River Trail (Fig. 6).  Some areas will require greater planning and engineering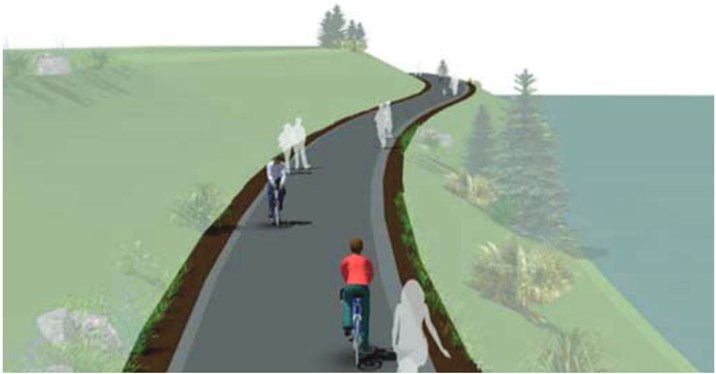 Figure 6.  Southwest Trail design concept.
Progress To Date
ALTA Planning, the same agency that planned the Razorback Greenway, created the Southwest Trail Corridor and Economic Impact Study in 2015.  Since then, a lot of people in Garland, Saline, and Pulaski counties have been working very hard to see this trail completed.  Metroplan has been coordinating the Southwest Trail Task Force to bring together stakeholders quarterly and coordinate their efforts (Figs. 7 & 8).  The Southwest Trail Facebook page has been educating the public at large about the project.  A new 501c3, the Friends of the Southwest Trail, has been created to raise funds for the trail's completion.  In June 2017, Garland, Saline, and Pulaski Counties together won a Federal Lands Access Program (FLAP) award to design and engineer the Southwest Trail from Hot Springs to Central High in Little Rock; in April 2018, Garver Engineering was named the trail's design firm.  Since then, Garver has met with municipal staff and elected officials from all three counties and the Arkansas Department of Transportation and the Federal Highway Administration conducted public involvement meetings in each county in November 2018.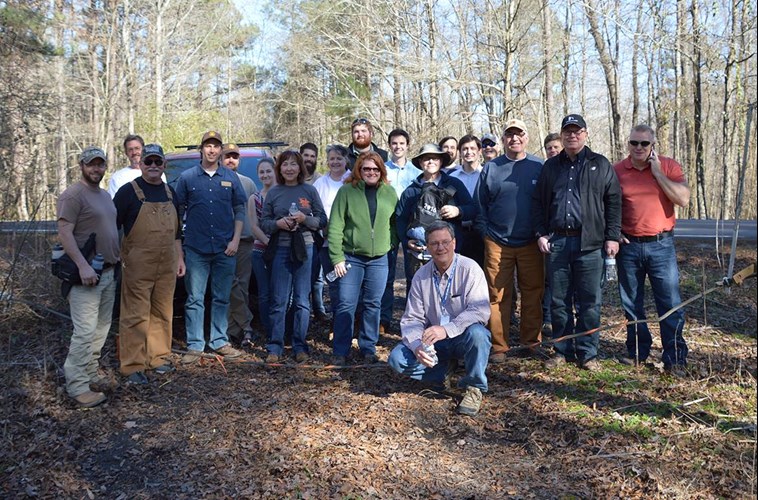 Figure 7.  Members of the Southwest Trail Task Force hike part of the proposed Southwest Trail route from Geyer Springs to Shannon Hills in January 2017.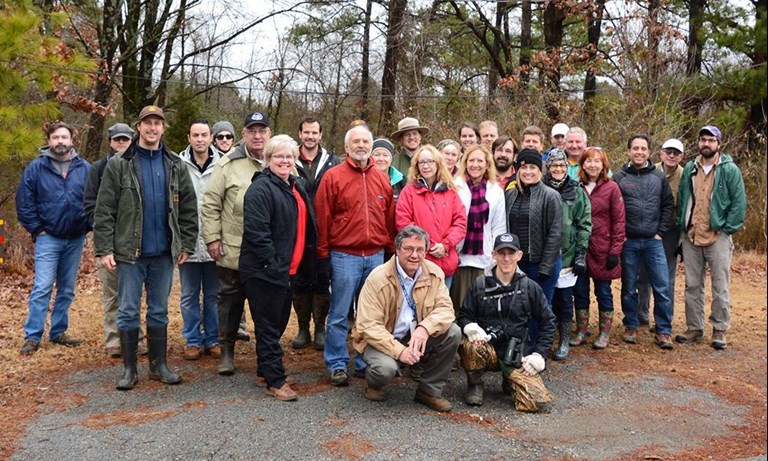 Figure 8.  Members of the Southwest Trail Task Force hike part of the proposed Southwest Trail route from 65th St., through Fourche Bottoms, to the Arkansas Fairgrounds in January 2018.
The City of Little Rock is working to complete our section of this trail as well (Fig. 3 and south).  In August 2016, we completed a more detailed corridor study of the proposed ALTA Planning route from the Arkansas River Trail to Interstate Park.  In November 2016, we applied for funding through the Federal Lands Access Program (FLAP) to build the Southwest Trail from the Arkansas River Trail at the Union Pacific tracks to Central High School (what we dubbed the "Central High Corridor").  In preparation for that funding, we completed an even more detailed analysis of that corridor and its challenges.  On June 15, 2017, we were awarded the full amount requested for Phase One of a three phase project to build the Central High Corridor from the Arkansas River Trail to Central High.
The majority of the Phase One funds will be spent stabilizing the Arkansas River bank that is falling into the river (Fig. 4: gray trail).  The remaining funds will be used to create a ramp from the Medical Mile to the bridge currently being constructed over the Union Pacific tracks (pink).  The green section is Phase Two.  See also our application and supporting materials.
As we begin the administration of Phase One of the FLAP, we are working to obtain easements for Phase Two.  This will build the trail from the Arkansas River Trail to the Capital Mall.  We have proposed a solution to Union Pacific for the Southwest Trail route in the area they have been most concerned with since 2008 (Fig. 9).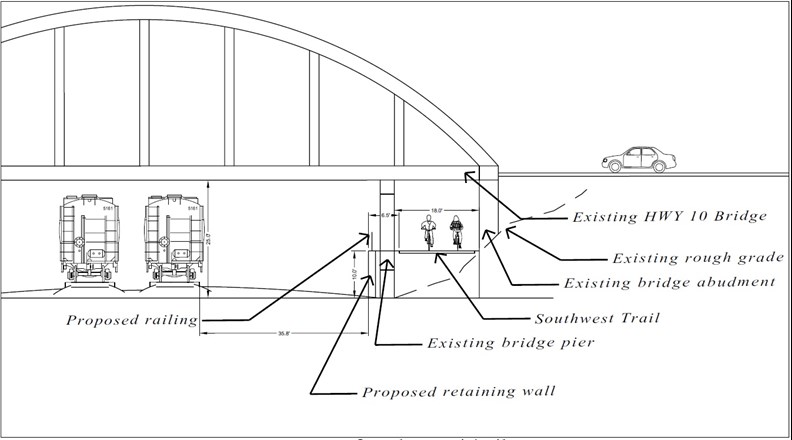 Figure 9.  This is the proposed LaHarpe Undercrossing, addressing all of the concerns expressed by Union Pacific in 2008 (see also).  Figure by Leland Couch. 
The completion of the Southwest Trail is far from guaranteed.  Within the City of Little Rock, we are having challenges obtaining the necessary easements even between the Arkansas River Trail and Central High.  Of course funding is also a challenge.  If you have any comments, concerns, or suggestions, email jlandosky@littlerock.gov.  If you want to learn how you can be more involved, contact Friends of the Southwest Trail.