Steps to Silver
In May 2016, the League of American Bicyclists designated Little Rock a Bike Friendly Community at the Bronze (entry) level.  They also included a report card to indicate the most effective next steps for Little Rock to become more bike friendly.  The League has guided hundreds of communities through this process.  These recommendations, tailored to our current strengths and challenges, can help identify and prioritize our next steps to improving our city for bicyclists.  Click on report card for an expanded view.
Below are some of their recommendations and how we might address them in Little Rock.  What do you think about these recommendations and key steps?  Do you have other ideas?  What can you do to help us address these recommendations?  Please email jlandosky@littlerock.gov or come to a Bike Friendly Community Committee meeting and let your voice be heard.
Infrastructure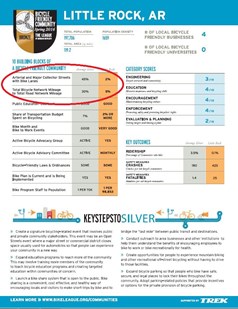 Key Steps:
Institutionalize the language of the Complete Streets Ordinance
Amend the Master Street Plan to be congruent with the Complete Streets Ordinance
Improve the Master Bike Plan to provide more and better connectivity and be more actionable when roads are resurfaced
Ridership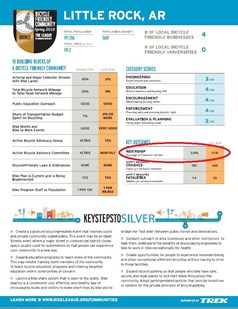 Key Steps:
Support Recycle Bikes for Kids to ensure that everyone has access to a bike for recreation and transportation
Expand the bicycle transportation network to increase the perception and reality of safety

Close the loop to provide a safe east-west corridor from which other connectivity can be established

Establish a bikeshare system downtown and beyond to provide connectivity to those who did not commute to downtown by bicycle
Community Outreach: Better understand barriers to ridership so that they can be addressed

Work with Recycle Bikes for Kids
Establish relationships with neighborhood associations
Expand feedback platforms
Safety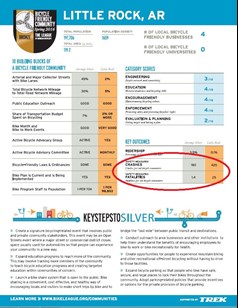 Key Steps:
Create an improved and more complete bicycle transportation network

Connect pieces of bike infrastructure to create complete routes
Create better bike infrastructure (buffered and protected bike lanes)

Educate drivers to better coexist with people riding bicycles
Offer more bicycle safety education opportunites
Bikeshare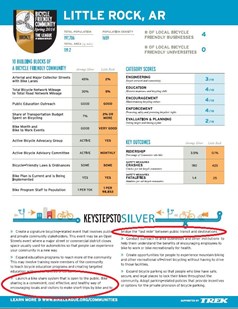 Key Steps:
Phase 1: Establish a viable bikeshare program in downtown Little Rock
Phase 2: Expand the program to include connectivity to North Little Rock
Phase 3: Expand the program to include connectivity within and between Little Rock neighborhoods close to downtown
Bike Parking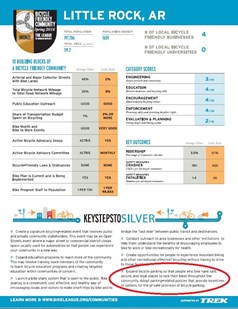 Key Steps:
Establish a City of Little Rock standard style and color bike rack
Install bike racks in same focal area as bikeshare program to facilitate its success
Expand the focal area of bike rack installation as bikeshare focal area expands
Funding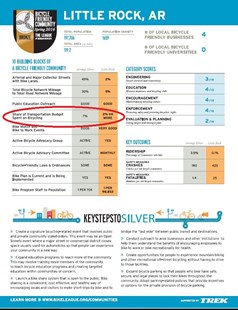 Key Steps:
Support the multimodal mandate of the Complete Streets Ordinance by dedicating more funding to bicycle infrastructure.
Planning and Evaluation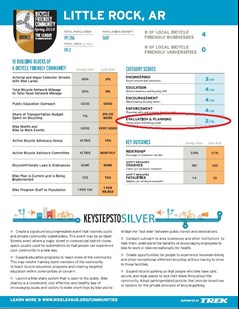 Key Steps:
Amend the Master Street Plan to be congruent with the Complete Streets Ordinance
Improve the Master Bike Plan to provide more and better connectivity and be more actionable when roads are resurfaced
Create a Master Trails Plan establishing a network of off-road connectivity users may feel safer using and indicating funding sources for its completion
Establish more and improved metrics to evaluate the success of our inititives
Education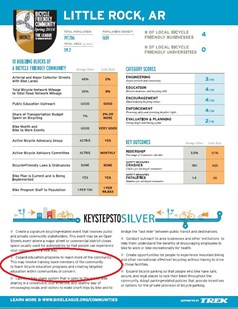 Key Steps:
Get bicycle education into the Little Rock Public Schools
Reengage our population of League Certified (Bicycle) Instructors (LCIs)
Train more people in Little Rock to be LCIs
Business Outreach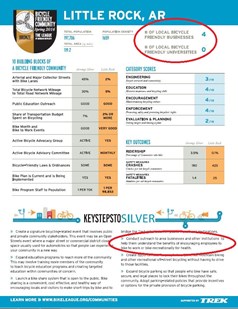 Key Steps:
Use the League of American Bicyclist's Bike Friendly Business and Bike Friendly University Program to

Educate businesses and universities to the benefits of employee and student biking
Reward participating businesses and universities with recognition

Perhaps establish partnerships with bikeshare to

Increase business investment in a bicycle culture in Little Rock
Create more opportunities for employees to bike commute to work or at work
Network to Recreation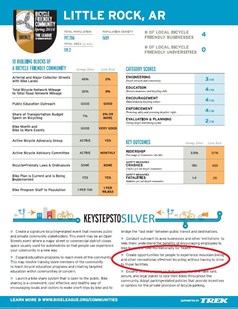 Key Steps:
In the Master Bike Plan, prioritize connections from residential neighborhoods to the Arkansas River Trail (ART)

To eliminate an automobile modality from bicycle recreation
To better use the ART as a transportation corridor

In the Master Bike Plan, prioritize (to a lesser extent) connections from residential neighborhoods to paved and unpaved off-road bicycle trails that do not necessarily have a connectivity/transportation function
Staff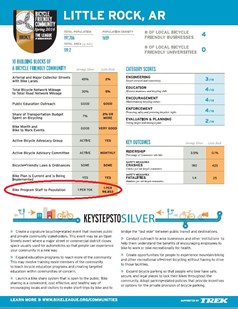 Key Steps:
Increase the focus of City staff on bike friendly activities by


hiring additional staff members
prioritizing bike-related tasks for current staff members