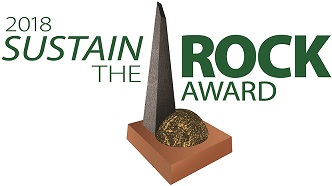 The Sustain the Rock Awards recognize businesses, non-profits, individuals and departments/employees of the City of Little Rock who have made significant contributions to a more sustainable Little Rock. They contribute to a more sustainable city by embracing and promoting an approach to business and daily living that balances environmental responsibility, economic prosperity, and community equity. 
Please review our Sustain the Rock Award documents before you submit a nomination for 2018.

Nomination Form (pdf)          Nomination Form (word)

2017 Sustain the Rock Award Winners
Small Business Category: Davis Rubber Company, Inc.
Davis Rubber has been in the business of rubber recycling in Little Rock since 1924. Davis Rubber Company has partnered with the Pulaski Inter-District Waste Tire Management Program to collect, transport, and recycle the tires generated in the 9-county central Arkansas area since 1993. During this time, they have kept over 18 million waste tires out of Arkansas' beautiful natural environment, a large percentage of which were also kept out of our landfills. All of the tires processed at Davis Rubber Company today will leave the facility in the form of beneficial products: primarily tire-derived fuel; safe, durable playground cover, manufactured to national standards; and sustainable landscaping mulch
Large Business Category: Holiday Inn Conference Center/O'Reilly Hospitality
O'Reilly Hospitality Management is dedicated to operating their properties in an environmentally responsible way. Sustainability is a core value, and they expect to make a positive impact by reducing their carbon footprint while creating a healthier and safer environment for guests and employees. They are a TripAdvisor "GreenLeader," and have reported many green practices for this designation, including a towel and linen reuse program, recycling program, energy-efficient lighting and appliances program, training and education programs for staff and guests, water-efficiency program, composting program, and green purchasing program. They track all their waste and energy usage, and implement other green building practices externally such as planting trees for shade, planting native plants in their garden, and using non-toxic pest control methods. Additionally, they've established a "Green Team" to help guide their environmental efforts. One program they currently participate in is "Clean the World." With this program, their housekeepers collect toiletry containers left in hotel rooms once guests check out. By collecting these containers for recycling and reuse, they are reducing the amount of waste contributed towards the landfill. Since joining this program, they have been able to recycle about 200 pounds of used toiletry containers every two weeks. The containers are then re-used to help distribute various hygiene products to people in need. Another program they participate in is the Aquanomic Laundry Program. This water system helps reduce the amount of water utilized for various aspects in the hotel. In total, they've been able to reduce their amount of water used by 40%.
Another way they have helped reduce their environmental impact is to provide their employees with a reusable beverage container. They calculated the average amount of disposable coffee cups used by each employee in a year, which was an astounding 520 cups. By providing reusable containers, employees are contributing much less waste to the landfill.
The Holiday Inn Conference Center is also committed to the Little Rock community. In 2016, they "Adopted a Street" in the College Station area with the City's Adopt-A-Street program.
Non-profit Category: Goodwill Industries of Arkansas
Goodwill is an organization focused on the triple bottom line of People, Planet, and Prosperity. They are helping people while caring for our planet by collectively reducing our city's environmental footprint. Their green efforts divert over 25,000,000 pounds of waste annually out of Little Rock landfills through their reuse and recycling programs. In addition, the revenue generated from these programs supports and funds the Goodwill mission of providing training, education, and employment services. This perpetual cycle of diversion through their "donate/resale/re-use" model gives would-be waste a second or third life and beyond. Goodwill also partners with schools and universities in ewaste donation drives. These events educate the public about the importance recycling plays in landfill diversion and the resulting benefits that directly enhance our communities.
In 2015, Goodwill decided to expand their ewaste recycling program and opened their own computer de-manufacturing lab at their main facility at 7400 Scott Hamilton Drive. Potentially hazardous ewaste such as monitors, batteries, ink cartridges, and more are all demanufactured and recycled. Their landfill diversion and ewaste recycling programs have had a direct impact on the local environment and quality of life for our residents. Goodwill has recycled over 1,800 tons of computer ewaste alone since beginning the ewaste recycling program.
This is equivalent to:
12,230 metric tons of reduced CO2 emissions
73,750 passenger vehicles removed from the highways
831,145,000 reduced vehicle miles traveled
Individual Category: Mason Ellis
Mason, an architect at WER Architects, dedicates his time to promoting bicycle accessibility in Central Arkansas. He is the chair of BACA, the Bicycle Advocacy group of Central Arkansas and is dedicated to helping Little Rock close the Arkansas River Trail loop. He helped develop and promote the Complete Streets Ordinance and was critical to the ordinance being passed by the Board of Directors in 2015. Mason has a vision of reinventing Rock Creek in West Little Rock as a floater's paradise.
City of Little Rock Category: Little Rock Housing and Neighborhood Programs, 2016 AmeriCorps Energy Conservation Program 
Following a week of training starting April 18, 2016, nine AmeriCorps volunteers spent five weeks contacting 61 home owners and providing 53 walkthrough inspections which included testing for gas leaks, carbon monoxide (CO) and backdrafting of combustion appliances. After plumbers were called to repair gas leaks, 43 qualifying houses were blower door tested for infiltration and tested for duct leakage if the house had central heating and cooling. Energy saving measures included air sealing with caulk, weatherstriping, and insulation board, replacing incandescent lights with LED and/or compact fluorescents, insulating hot water pipes, water heater wraps, and installing CO monitors. Houses were tested before and afterwards to quantify leakage reduction and ensure the houses remained adequately ventilated. In addition, a number of houses received ceilings insulation installed by private contractors afterwards. AmeriCorps received such good reviews of the 2016 program that the City was awarded 11 AmeriCorps volunteers for two months this year to carry on the work. This year's volunteers started February 6, 2017 and the program is underway. Training was expanded this year to include lead-based paint and "Heathy Homes." The impact of this program for occupants went beyond saving energy—health and safety was greatly improved. Gas leaks were identified and repaired and carbon monoxide producing appliances identified and replaced.