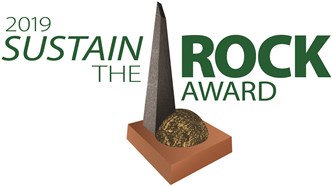 The Sustain the Rock Awards recognize businesses, non-profits, individuals and departments/employees of the City of Little Rock who have made significant contributions to a more sustainable Little Rock. They contribute to a more sustainable city by embracing and promoting an approach to business and daily living that balances environmental responsibility, economic prosperity, and social equity. 
Nomination Form (pdf)          Nomination Form (word)
2018 Sustain the Rock award winners: see descriptions of winners below
Boulevard Bread Company, Large Business
Hangers Cleaners, Medium Business
Central Arkansas Master Naturalists, Volunteer Organization 
Nathan Keltch, Individual
Information Technology Department, City of Little Rock
Look for this static cling on business windows when you are shopping in Little Rock!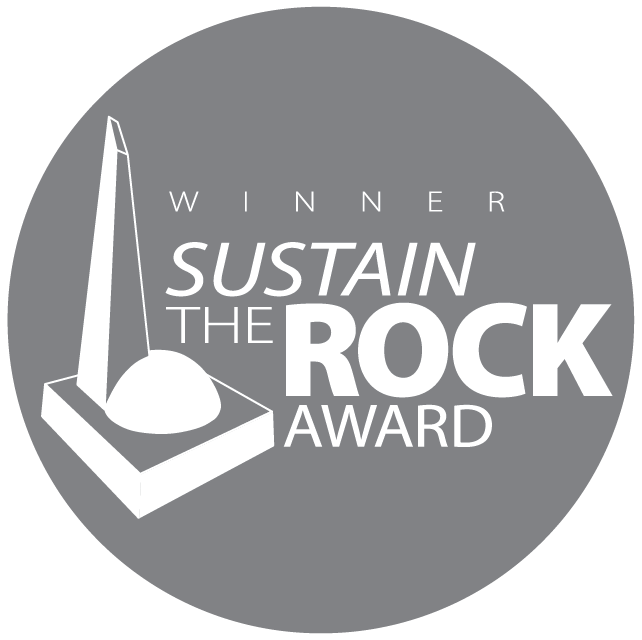 2018 Winner Bios
Boulevard Bread Company, Large Business
Boulevard Bread Company, who employs over 60 people, has been an environmentally friendly business from the get go. They have environmentally friendly purchasing policies that ensure their papers products are sustainably sourced and that they purchase as much locally produced meat, produce, and dried goods as possible. They have a recycling program for their glass, cardboard, and plastic waste and Boulevard tries to reduce their waste as much as possible. Any leftover bread and pastries are donated to local food centers. Boulevard Bread supports local craftspeople and artists by providing a space where their crafts and art can be sold.
Hangers Cleaners, Medium Business 
Hangers Cleaners has 44 employees and has been in business since 2006. They were the first dry cleaner in Little Rock to begin using C02, hydrocarbon, and wet cleaning processes. They have never used the extremely toxic and carcinogenic chemical called Perchloroethylene (Perc). All of the lighting in their stores has been converted to LED and their steam boilers and air compressors have been upgraded to the most energy efficient models. They participate in the Dry Cleaning and Laundry Institute's hanger recycling program through which they recycled more than 150,000 clothes hangers in 2017. To incentivize customers to bring back their hangers for recycling, Hangers Cleaners provides free hanger caddies for easy hanger storage and transport. They also encourage customers to return their plastic dry cleaning bags to be recycled. Hangers Cleaners also participates in the Coats for Kids campaign and cleaned and repaired over 11,000 coats in 2017!
Central Arkansas Master Naturalists, Volunteer Organization 
Central Arkansas Master Naturalists were formed in 2006 as Arkansas' first master naturalist group. They are a corps of well-informed volunteers who provide education, outreach, and service dedicated to the beneficial management of natural resources and areas in their communities. CAMN has partnered with 25 local non-profits to provide over 57,000 hours of volunteer service valued at over $1 million dollars. Most of Central Arkansas' natural and public spaces have been touched by the Master Naturalists. They have worked in almost every Little Rock City park, at Pinnacle Mountain State Park, Wildwood Park for the Arts, and the Hillary Clinton Children's Library to name a few. Master Naturalist training entails more than 60 hours of combined classroom and field instruction on a wide range of ecological topics. Training encompasses education on observing and identifying plants and animals native to Arkansas as well as invasive and non-native species. They also learn about geology, water quality, the eco regions of Arkansas and how non-living features interact with our natural, living environment.
Nathan Keltch, Individual 
Nathan Keltch is a Little Rock native with a strong passion for improving his community. He is the Director for Recycle Bikes for Kids a non-profit that collects unwanted bikes from Central Arkansas residents, rehabs them, and provides rebuilt bikes for those in need of transportation options. Under his leadership Recycle Bikes has expanded, built productive, lasting partnerships, and gained financial stability. Nathan practices all three tiers of sustainability both in his work and personal life. He helps to reduce greenhouse gas emissions by working with BFCC and BACA to build more bike friendly communities. He promotes the development of a circular economy by keeping thousands of bikes a year from going to the landfill. Most importantly, he helps to improve the lives of those Central Arkansas residents most in need by helping provide bikes to kids and adults through the Recycle Bikes' "earn a bike" program.
Information Technology Department, City of Little Rock 
The Information Technology Department has a mind for energy efficiency. When the department began to upgrade the City's physical servers to virtual servers they ensured that when the conversion was completed the servers were using less energy than the previous servers. The IT Department upgraded its 103 physical servers to 221 virtual servers and 6 physical servers that in total use 60% less energy. IT now only purchases energy efficient desktops that have reduced power consumption by 10% for over 1,500 desktop computers. While the Information Technology Department recognizes that these are only a few steps toward achieve a totally green and energy efficient environment, the Department will continue to strive for improvements in green technology and sustainable energy.