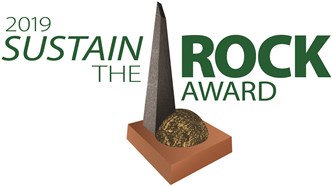 The Sustain the Rock Awards recognize businesses, non-profits, individuals and departments/employees of the City of Little Rock who have made significant contributions to a more sustainable Little Rock. They contribute to a more sustainable city by embracing and promoting an approach to business and daily living that balances environmental responsibility, economic prosperity, and social equity. 
Nomination Form (pdf)          Nomination Form (word)
2019 Sustain the Rock Award winners: 
Drain Smart, Environmental Program 
Heifer International, Nonprofit Organization
Community Bakery, Large Business
Sumedha Rao, Individual 
Robinson Center, City of Little Rock
Look for this static cling on business windows when you are shopping in Little Rock!