City of Little Rock Sets Up Family Assistance Center
---

FOR IMMEDIATE RELEASE :
Sunday, Apr 02, 2023
City of Little Rock Public Relations (501) 371-4421
---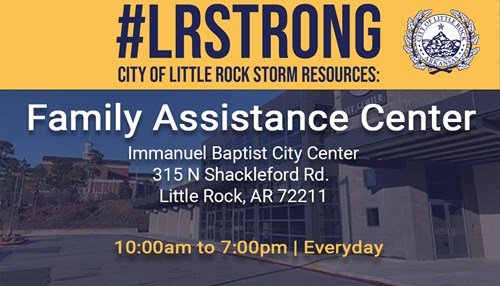 LITTLE ROCK – The City of Little Rock is joining several community organizations to start a Family Assistance Center in west Little Rock beginning Monday. The Family Assistance Center will provide support to residents impacted by Friday's tornado.
The Center's hours will be from 10 a.m. to 7 p.m. daily at The City Center, 315 N. Shackleford Road.
"This is a significant community partnership that demonstrates the strength and resolve of our City," said Little Rock Mayor Frank Scott, Jr. "We are united in our commitment to serve those who were impacted by this storm as we move forward together to rebuild. I'm humbled by the outpouring of support from not just this community, but from around the world.
"With the Family Assistance Center, impacted residents will have direct and efficient access to the resources they need, all in one place. I'm so grateful for the nonprofit organizations, community partners and everyone who has stepped up for their friends and neighbors in this time of need."
The Family Assistance Center is a partnership with Engage Arkansas, Arkansas Baptist Disaster Relief, the Salvation Army, Wolfe Street Foundation, Center for Youth and Families, Immanuel Baptist Church, Goodwill Industries, and the United Way.
Affected residents will be able to access recovery resources such as water, food, and supplies. They may also request volunteer chainsaw crews through the center who will assist residents with tree removal and tarp placement. FEMA representatives will be onsite for residents who need federal assistance. Case workers as well as trauma-informed mental health services will be provided through the center. The Little Rock School District will also have a representative at the Center for families in transition, and the City will offer Municipal ID services to residents who may need them.
Free lunches and dinners will be offered each day this week.
United Way will connect residents to resources through its 24-hour 211 line. Individuals may call 211 to report disaster-related issues or request volunteer services. 211 call-takers will work with city volunteer efforts and other partners to provide assistance through their service.
The City remains committed to assisting residents throughout the recovery effort. For the latest and most up-to-date information, follow the City of Little Rock onFacebook and Twitter.