FOR IMMEDIATE RELEASE :
Friday, Oct 21, 2016
City of Little Rock Public Relations
Office (501) 371-4421
Media Releases
Contact(s): Mike Hood, Manager, Civil Engineering Division | (501) 371-4820
Fair Park Boulevard and Zoo Drive Intersection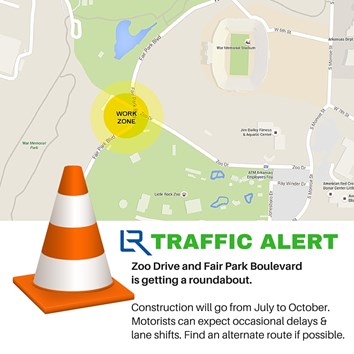 WHAT:  
Beginning at 10 a.m. Tuesday, Oct. 25, 2016, the northbound traffic from I-630 traveling on Fair Park Boulevard will be detoured onto Zoo Drive to South Monroe, then left onto South Monroe to the intersection with West Markham. Southbound traffic on Fair Park Boulevard will continue west on Fair Park Drive through the construction area.
Barricades and warning signs will be installed to inform motorists of the detour routes.
These restrictions are necessary to allow the contractor to complete construction of the roundabout at this location. Expect delays in travel times. Alternate routes should be considered, including University Avenue or Pine Street.
The detour will be in effect for four weeks.
WHO:                        
Motorists traveling in the area of Zoo Drive and Fair Park Boulevard.
WHEN:                      
Tuesday, Oct. 25, 2016, beginning at 10 a.m.
###