FOR IMMEDIATE RELEASE :
Friday, Jun 07, 2019
City of Little Rock Public Relations
Office (501) 371-4421
Media Releases
Contact(s): Stephanie Jackson | (c) 501 539 3960
Neighborhood Streets Reopen, New Wildlife, and Sandbag Drop-offs in Friday Flood Update
On Friday, the City of Little Rock reopened all streets to traffic in the Richland community in Fourche Dam Pike, now that most of the water has receded and streets are passable again. City Emergency Management officials remind the public that the Arkansas River is still in Major Flood Stage and remains under a flood warning until Tuesday, June 11th. People are strongly encouraged to avoid the River, if possible, and where it is not possible, to exercise extreme caution. Those with homes and businesses along the River and other creeks and streams should remain alert to changing forecasts.
Sandbags
The City's Public Works Department has created three sandbag drop off sites throughout Little Rock. All sites are open, beginning today and bags can be brought to the following locations at anytime:
War Memorial Park Parking Lot (accessed from Clubhouse Drive at roundabout)
Intersection of East Roosevelt and Fourche Dam Pike (northeast corner)
End of Chenal Valley Drive at Chenal Parkway (north intersection near St. Margaret's Episcopal Church)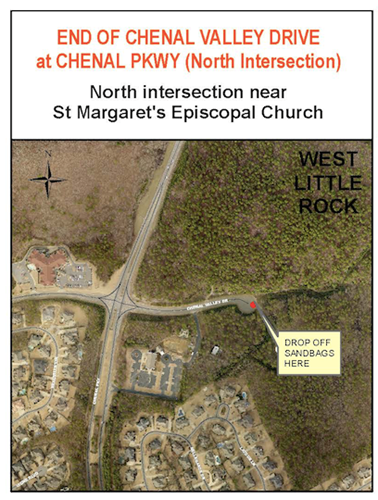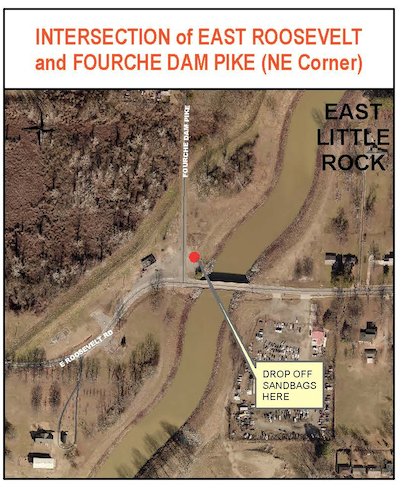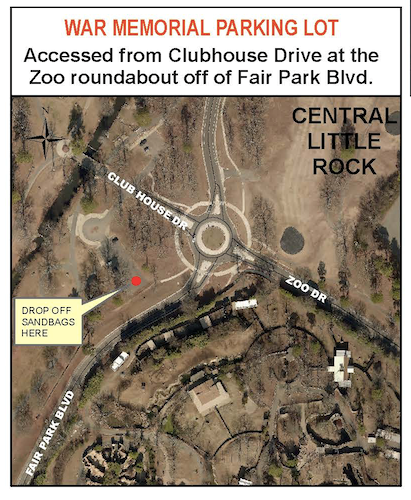 Residents are asked to empty bags at the drop-off location and put the empty bags into the designated dumpster on site. The City will not collect sandbags placed at the edge of streets. Residents, however, can use sand from sandbags to fill low areas of their yards, flower beds, or gardens. But officials advise to NOT use sand that has been in contact with floodwaters in any area, such as a child's sandbox or play area. The sand may contain bacteria or other contaminants from floodwater. Residents are also urged to not dispose of sand or sandbags in the following areas:
Creeks
Ditches
Storm drains
Other waterways
Wildlife
Wildlife that normally lives in and around the river is being pushed into areas where it normally wouldn't go, and Little Rock Zoo officials caution residents to mind take care if you encounter animals you don't normally see. This video steps through why possums, snakes, and birds of prey are needed and what to do if you see them.
Volunteers
With overwhelming response from Little Rock residents to assist neighbors in need, the City of Little Rock has partnered with Volunteer Arkansas, a project of AmeriCorps, to compile a list of volunteers to assist with cleanup and recovery in the coming weeks. Mayor Frank Scott, Jr. is asking residents to access this website portal to sign up to volunteer.