2025 and Beyond Sustainability Action Plan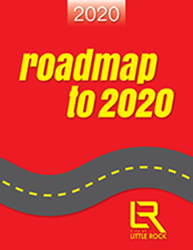 The City is developing an achievable Sustainability Action Plan composed of goals that will save precious natural resources, result in economic savings and stimulation, and add quality to the lives of all our citizens. 
The 2020 Sustainability Roadmap goals were established in 2015 and a summary report was given at the Sustainability Summit 2021.
To view the entire 2020 Sustainability Roadmap, including descriptions of each goal, click on the red Roadmap to 2020 image.
For additional information please contact Lennie Massanelli at lmassanelli@littlerock.gov.
2020 Sustainability Roadmap Report Card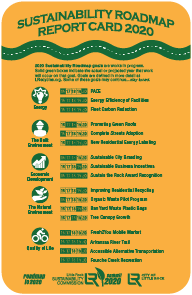 2020 Sustainability Roadmap goals are works in progress. The yellow, Report Card 2020 image can be used to determine the years during which each goal will be a focus of the work of the Sustainability Office. If the box for a past year is darkened then it indicates that the necessary steps to achieve the goal were completed. If the box for the current year or a future year are darkened then it indicates that the Sustainability Office will focus on achieving that goal.