Propane Tanks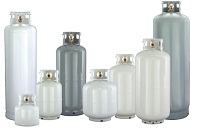 Propane tanks pose serious risk to recycling facilities due to their tendency to explode if put under pressure. For the safety of our community's recycling workers please do not put propane tanks in your recycling cart.
You can take empty propane and butane tanks to:
Rick's LP Gas                       
(501) 562-5009
5715 Patterson Rd             
Little Rock, AR 72209


                                    All sizes are accepted FREE of charge. 
                                    Hours of operation: M-F 8am - 5pm, Sat. 8am - 12 noon, closed Sunday