Scrap Metal Recycling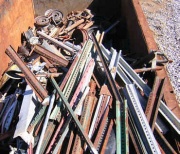 Several businesses in Central Arkansas will take your scrap metal whether it's from an individual or business. It is recommended that you call first to confirm that these companies will take your item. 
A downtown Little Rock option is Sol Alman, located at 1300 East 9th Street. Phone: 501-342-5222
If you are in West Little Rock you can take your scrap metal to ABC Salvage and Scrap Metal, located at 8116 Stagecoach Road. Phone: 501-455-2225.
Did you know that scrap metal recycling companies will not accept items that may contain refrigerants? These items range from refrigerators to dehumidifiers. Learn how to properly dispose of these items on our "Large Appliances" web page. 
Missing or Outdated Information? 
If you feel there is missing or outdated information on this web page please let us know at recycle@littlerock.gov or at 501-371-4586.