Tire Recycling
Tires can easily be recycled! But unfortunately, many people still illegally dump their unwanted tires instead of bringing them to the correct recycling facility. Used tires are a huge nuisance for the environment when they are not disposed of properly. Illegal tire dumping causes harmful chemicals to leak into soil and water, provides ample breeding grounds for disease causing mosquitoes, and tires never decompose. Tires should never be placed in your recycling cart or garbage cart.
You can properly dispose of your tires at the Little Rock Landfill located at 10801 Ironton Cutoff. The City landfill accepts 4 tires per person per month. The tires collected at the landfill are then recycled. You can also take old tires to Davis Rubber Company at their drop off site in Little Rock: 1600 E. 15th Street. They also accept 4 car tires per person per month. After 4 tires the charge is $2 per car tire and $5 per 18 wheeler tire. All tires need to be off the rim! 
If there are still rims on your tires there will be associated fees. Click on the graphic below to learn about the rim removal fees.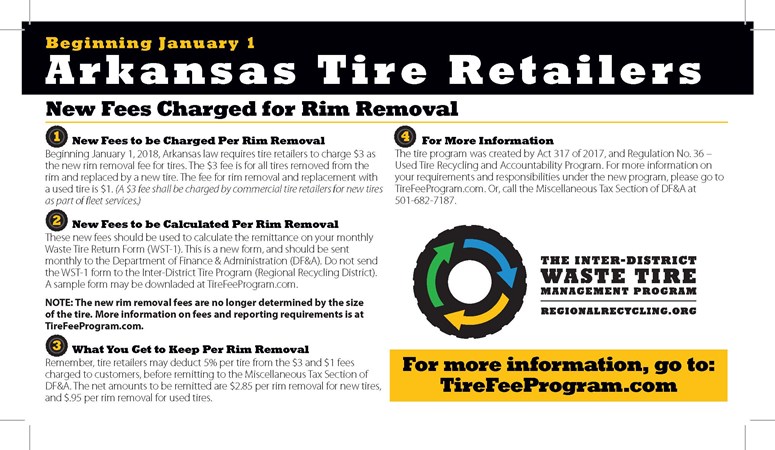 Missing or Outdated Information? 
If you feel there is missing or outdated information on this web page please let us know at recycle@littlerock.gov or at 501-371-4586.