Employee Benefits
The City of Little Rock provides a variety of benefits to employees, their eligible dependents, and eligible retirees as part of a total compensation package.
Insurance Information
2022 Open Enrollment Nov. 8th  - Nov 19th. Click Below for more information.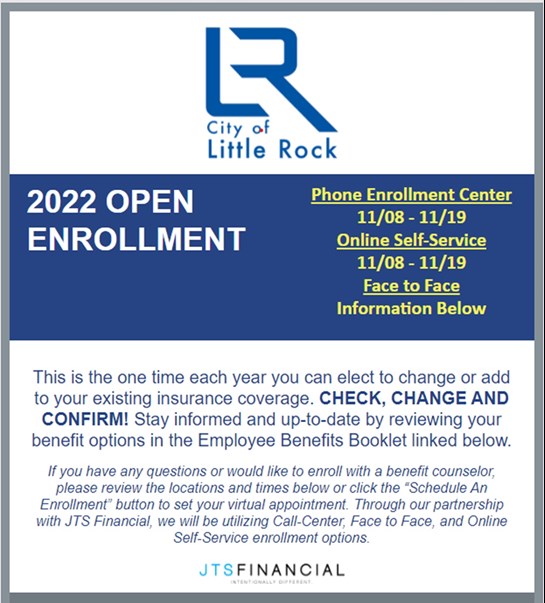 Our Benefit Providers
Benefit Forms, Flyers and Memos
Annual Preventive Care Exam Form (PDF)
Benefit Statement and Updates (PDF)
Consolidated Admin Services (Flexible Spending Account) Forms
COVID Hazard Leave (PDF)  
Defined Benefit Plan Retirement Estimator (EXCEL)  
FSA and Dependent Care Account Changes (PDF)
Mental Health Support Resources (PDF)
Military on the Move/First Responder Resourc (PDF)
Retirement Webinar Schedule for 2021 (PDF)
United Healthcare
United Healthcare RX Changes (PDF)
Workers' Compensation


PDF documents require the Adobe Acrobat Reader. Click the icon to download the free program.