Planning and Development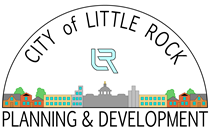 The Planning & Development Department consists of forty (40) employees in four (4) Divisions. The Department supports several Boards and Commissions.
Proposed Code Revisions
Included on the Board of Directors Agenda for May 5, 2020, is an ordinance to make revisions to the Development Codes and particularly the alignment of services provided by both the Planning & Development and Public Works Departments. Approximately 50% to 60% of the presented revisions pertain to the shift in responsibility, which affects Chapters 23, 29, 30, 31 and 36. Click the link below for the executive summary:
Mission Statement
To enhance the quality of life for the residents of Little Rock through exceptional service that encourages quality growth, development, redevelopment, and the stabilization of neighborhoods through an efficient and equitable effort of planning, land use controls, Historic Preservation, permitting, and enforcement.
Helpful Information
Below are some application forms and helpful links:   
Board & Commission Information
Regularly scheduled meetings of the Little Rock Planning Commission, Board of Adjustment, and Historic District Commission are held in the Board Chambers, second floor City Hall, 500 West Markham Street.
| | | | |
| --- | --- | --- | --- |
| Little Rock Planning Commission | Board of Adjustment | City Beautiful Commission | Historic District Commission: |
| | | | |
For More Information
General questions and information:
723 West Markham Street
Little Rock, AR 72201
Office: (501) 371-4790
Fax: (501) 399-3435
Zoning Information, Verification & Complaints:
Office:(501) 371-4844
Fax:(501) 371-6863
lrzoning@littlerock.gov
 
Building Permit Desk:
Office: (501) 371-4832
Fax: (501) 371-4546
Jamie Collins, Director
gcollins@littlerock.gov
Venita Harris, Administrative Assistant
vharris@littlerock.gov